By Rotimi Ojomoyela
ADO-EKITI—THE Muslim community in Ekiti State, yesterday, staged a peaceful protest, over alleged appropriation of their land by former Governor Ayodele Fayose, urging the government to revoke the forceful acquisition to avert crisis in the state.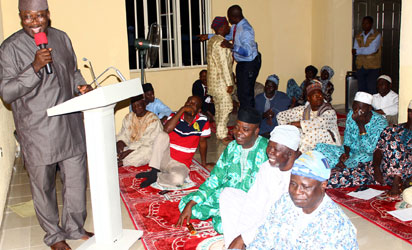 The Muslims, who displayed placards of various inscriptions, said the land located at Atikankan area, Odo Otu, in the state capital was donated to Ahmmadiyya   Muslim Jama'at  in 1940 by the late Ewi of Ado Ekiti, Oba Aladesanmi Anirare and the  first Ahmmadiya mosque in Ekiti was erected there.
Some of the placards read: 'No Illegal Acquisition of our land, 'Government, Give Us Our Land', 'We Want Our Land Back' and 'Enough of Marginalisation of Muslims in Ekiti'.
They described the forceful takeover of the land as an act of oppression to Muslims in the State.
https://www.vanguardngr.com/2018/11/south-south-guber-race-a-peep-into-contenders-political-machinery/
President, Ahmmadiyya   Muslim Jama'at, in Ekiti State, Mr. Alawode Bashirudeen said: "Our fathers built the first mosque on the plot of land in the 40's before the old structure built with mould blocks   was demolished.
"We went to the State Ministry of Lands and the General Manager of the Ekiti State Housing Corporation and complained, but they told us the land has been acquired by the government and we suspected that government can't acquire land to build a petrol station.
"When we suspected foul play and saw the structure springing up , we sent a petition   to the Police Commissioner   and he intervened and stopped the construction. It was at the meeting with the Commissioner of Police that we got to know that the land was acquired by the governor for his son.
"Rather than even tender an apology, the former governor threatened us and said the land had been acquired and that there was nothing we could do about it.
"We have documents backing us that we are the original owner, so we are appealing   to the government to   remove the structure and give us our land back, it belongs to us.
"We can only negotiate with the owner of this structure if they give us another land within this vicinity and this should come with all necessary documents."
Fayose's aide reacts 
Reacting to the allegation, Mr. Fayose's aide, Mr. Lere Olayinka said: "No child of the former governor is building a petrol station anywhere in Ekiti State and none of them benefited from his government in terms of land acquisition.
"All actions of his government were done within the ambit of the law and the records are there.
"Also, the issue in question was addressed with the Muslims while he was in office and the present government is at liberty to look into it if they have grievances."
Subscribe for latest Videos