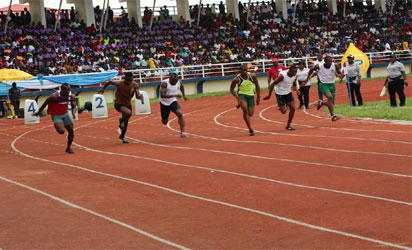 Athletics
The Chairman of the Ebonyi North Senatorial Zone's organising committee in the ongoing state's school sports elimination series, Mr Okwudiri Robinson, has been sacked for financial misappropriation.
Mr Charlse Akpuenika, Ebonyi Commissioner for Sports and Youth Development, who announced the sack on Wednesday in an interview in Abakaliki, said Robinson had been barred from the competition's organisation.
The commissioner noted that Robinson mismanaged the funds meant to provide security at the Holy Ghost Secondary school Abakaliki, centre for the zone's elimination series among other acts of misappropriation.
"During a visit to the centre, I discovered that the security personnel meant to provide security for the athletes and officials were not on ground.
"I also discovered that there were series of complaints over the non-provision of first aid materials among other logistics meant for a successful organisation of the competition.
"We duly released funds for all these logistics but his actions are capable of jeopardising efforts meant to ensure a hitch-free organisation of the competition," he said.
He directed that Robinson should refund all the funds given to him for the competition and cease to participate in its organisation.
"He should immediately hand over to the committee's next in command as failure to adhere to these directives would attract serous security and disciplinary actions.
"The members of the committee are also warned to be abreast of events in the zone's elimination series and desist from acts capable of disrupting the competition's organisation.
"Any official found culpable of such malpractice would be severely punished as no one would be allowed to jeopardise the organisational process," he said.
Akpuenika, however, expressed happiness with the organisation of the elimination series at the Government College Afikpo, centre for the Southern Senatorial Zone and at Onueke, centre for the Central Senatorial Zone.
Robinson, who is also the state's Wrestling Coach, said that he was not involved in any financial misappropriation, adding that he gave his best to the committee's duties.
"I have played a major role in ensuring a hitch-free organisation and needs time to sort my financial records in proving that there were no malpractices.
"I have expended funds to all areas as directed by the commissioner and ready to refund the remaining funds in my possession to clear my name," he said.
Several officials from the participating schools and Local Government Areas (LGA) were seen barraging the commissioner with complaints on non-provision of logistics needed for the competition. (NAN)