… as Fintrak, MTN others win NITDA awards
By Emmanuel Elebeke
The Kaduna State Governor, Mallam Nasir El-Rufai says the adoption of technology by the state government into its public service saves N500 million from the state's monthly pay roll.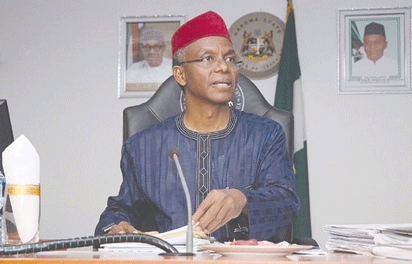 Governor El-Rufai stated this at the e-Nigeria gala and award night organized by the National Information Technology and Development Agency, NITDA in Abuja.
He said the feat was made possible through the adoption of the federal government's Integrated Personnel Payment System, IPPS through which ghost workers were sieved out of the system.
He also disclosed that the state government had adopted Treasury Single Account, TSA and new technology modules for pension and e-procurement platforms to plug leakages in the system.
''I am very proud of NITDA ,18 years after it was established. In Kaduna we have used technology to solve problems. We took N500 million off our pay roll through the adoption of technology. We adopted IPPS and we have added modules for pension and e-procurement platform.
''There is virtually no problem in governance that you cannot use technology to solve. For me, the only way to achieve meaningful development is to engage state.''
The governor who hailed NITDA for its innovative policies said the importance of technology in governance cannot be overemphasized as there is virtually no problem in governance that cannot be addressed with technology.
He encouraged NITDA not to only use mainstream technology at the federal level but to the sub regional levels as that remains the only way to achieve meaningful development in the country.
The Kaduna state governor, who received the best technology adoption state award, also revealed that his administration was determined to complete Kaduna Geographical Information System, GIS within the next few years.
Meanwhile, indigenous software company, Fintrak limited, MTN, CBN and NDIC emerged winners in the various categories of NITDA awards.
Fintrak defeated SystemSpecs to emerge winner in the financial technology award category; MTN won the industry regulatory Fund award; National Deposit Insurance Commission, NDIC clinched the best MDA award on IT clearance compliance.
Others are the CBN, which won the digital economy promotion award; Nigerian Interbank Settlement Systems won the Fintech award for public sector, while Kaduna state clinched the best state government in adoption of IT.
Also featured was long service and dedicated staff award for NITDA staff and the best Start-up award equally presented to outstanding innovators.
Responding to the award, the Group managing Director of Fintrak Software limited, Bimbo Abioye expressed described the award as a recognition of excellence.
''We have been able to come up with a software that has worked where foreign options have failed. Today, our software is in use in 13 commercial banks in Nigeria, they are also in use in about 10 mortgage banks. It's in use in about 8 insurance companies in Nigeria.
''So, that is a significant contribution to the software industry and technology effort in Nigeria. This award comes to encourage us to see that truly people are beginning to notice our efforts in the country. And it will spur us to do more and bring about greater innovation.''
The general manager, MTN for Northern region, Amina Usman said the award was well deserved because MTN had been regular in paying its IT development Fun levy.
''We pay our levies regularly as part of our corporate social responsibility.''
Earlier in his address, the director General of NITDA, Dr. Isa Ibrahim Pantami said NITDA considered the award necessary to encourage IT penetration and adoption in line with its mandate of promoting and regulating IT in the country.
Dr. Pantami said the agency is determined to recognize excellence performance in the IT industry within and outside NITDA. According to him, the awardees were selected by merit without the interference of the management.