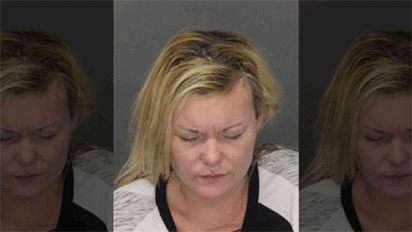 Sylvia Hope Verellen assaulted police and swallowed earrings under the influence of alcohol
A Michigan woman Sylvia Hope Verellen who allegedly swallowed diamond earrings that belonged to her boyfriend's deceased mother was arrested for drunkenly assaulting police and grabbing at one of their handguns, according to reports.
The 33-year-old Verellen of Roseville, was intoxicated and uncooperative when police arrived at a Troy residence, where her boyfriend had asked her to leave but she refused, the Detroit Free Press reported.
When officers tried to remove her from the home, she resisted and allegedly punched an officer, the report said.
Officers carried her out of the home when she struggled and grabbed at one of their handguns, police said.
She also spat at an officer and tried to bite them, Troy Police Lt. Josh Jones told Fox 2 Detroit.
Verellen then told officers that she ate a pair of earrings that belonged to her boyfriend's mother and she was immediately taken to a hospital to retrieve the jewelry, the report said.
Police arrest 7 customs officers for allegedly killing woman
"She had put diamond earrings in her ears and a ring on her finger that belonged to our caller's mother who had passed away.
"She thought the best course of action at some point was to swallow the earrings," Jones told Fox 2.
She was charged with hindering and obstructing a police officer, aggravated assault and battery of a police officer, the Free Press reported.
A judge set her bond at $2,000, the report said.