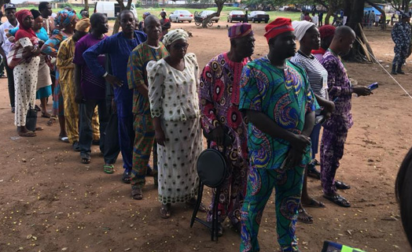 Prof. Habu Galadima, Director of Research/Chief Operating Officer  of the National Institute for Policy and Strategic Studies (NIPPS), has underscored the need for regulatory framework for tracking election campaign finances of political parties, to ensure viable democratic culture.
Galadima made this known in his address at the two-day capacity building for political party leaders that held in Abuja.
The event with the theme "INEC's standardised reporting template and timeline for submission of returns" was jointly organised by NIPPS, Political Parties Leadership and Policy Centre, with support from European Union.
He said that the need for the establishment of such regulatory framework became important due to the issue of campaign financing can mar or make electoral process.
Umeh, Oduah, Ekwunife make INEC provisional list
According to him, there is need to sensitise political parties on policies and legal frameworks about regulations governing campaign financing, to curtail the bogus spending of funds in election.
"The purpose of our meeting here today is to assist political parties, particularly Financial Secretaries, to understand INEC standardised financial tracking form.
'They are various forms on reporting on income, expenditure and all that is covered by regulatory framework.
"So, we are encouraging them to understand the template better and track finances of their party and at the end of the day avoid breach of the law concerning campaign financing.
"Such as those who are solely responsible for recording facts and figures about election campaigns, so that they will be able to give balanced report and send to INEC."
Speaking, Alhaji Aminu Idris, Director, Election and Party Monitoring Unit of INEC, described the campaign financing policy to be regulation that limits individual or political committees contribution to candidates.
He said that the commission had trained its staff, political parties and candidates on campaign finance track method and also collaborated with donor agencies to report expenses six months after election.
Idris said "they are also to report sources of their income three months after an election as a required by the law.
"There is a limit for campaign finances provided by the electoral Act; whether that is realistic or not, it does not call for debates, but the fact is that it is a law.
"What we are trying to do are train political parties to know how this works, design forms for political parties and candidates, so at the end of election they will report their income."
In a remark, Mr Peter Ameh, National Chairman, Inter-Party Advisory Council, decried the issue of bogus campaign financing to often hinder efforts towards conduct of free and fair election.
According to him, it is a major issue and INEC has been on it since 2015.
"If money politics is on heightened you can hardly have a credible poll; we should be able to give chance for ordinary citizens to participate in election.
"Our agenda is to ensure that election is run and driven by the people," Ameh said.
Senate is demotion for me — Aregbesola
Newsmen report that the framework governing political campaign finance is enshrined in the Electoral Act Section 91(2) and 91(3).
The maximum election expenses to be incurred by a candidate at a presidential and governorship election shall be one billion Naira only and two hundred million Naira only respectively.
Also, Section 91(4) of the Electoral Act stipulates that the maximum election expenses for senatorial and House of Representatives candidates shall be N40 million and N20 million respectively.