By Dayo Adesulu
While the Central Bank of Nigeria is still thinking whether to accept cryptocurrency as a legal tender or not, the Managing Director, International Monetary Fund (IMF), Christine Lagarde has urged central banks globally to consider issuing digital currency to make transactions more secure.
Lagarde who disclosed this at a conference in Singapore, argued that state-backed cryptocurrencies could satisfy public policy goals related to financial inclusion, consumer protection, privacy and fraud prevention.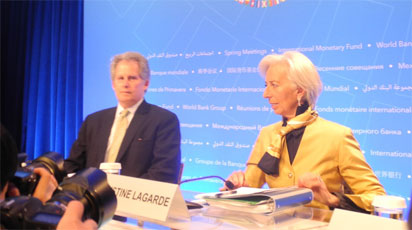 She said: "I believe we should consider the possibility to issue digital currency," Lagarde said in her speech this week in Singapore which is at the forefront of driving fintech innovation.
According to her, "There may be a role for the state to supply money to the digital economy. Pointing out some of the huge advantages of blockchain technology which drives cryptocurrencies, Lagarde said: "Your payment would be immediate, safe, cheap and potentially semi-anonymous. And central banks would retain a sure footing in payments."
In as extract from newsbitcoin.com, it explained that cashless transactions have soared around the world in recent years, unsettling many of the control freaks who work for various governments. Bitcoin, for example, was created to challenge the conventional financial system and return the ownership of money to the people, beyond the reach of the state. But this vision has not endeared it to global financial gurus who are steeped in tradition. Unsurprisingly, many national governments have raised concerns about cryptocurrencies and have called for tighter regulation.
https://www.vanguardngr.com/2018/11/firms-partner-to-pioneer-blockchain-technology-in-nigeria/
Citing the example of central banks in Canada, China, Sweden and Uruguay, which are all "seriously considering" the introduction of their own digital currencies, Lagarde said a state-issued cryptocurrency would be a liability of the state, just like fiat money. Such currencies could reduce the cost of transactions while maximizing security and spreading adoption. She stated:
Regulations may not be able to fully address these downsides, Lagarde said, but a digital currency could offer a number of advantages, particularly as a backup means of payment. "And it could boost competition by offering a low-cost and efficient alternative — as did its grandfather, the old reliable paper note," Lagarde said. She added that although the case for virtual currencies "is not universal," it should be investigated "seriously, carefully and creatively."
In addition, central banks could offer a more level playing field for competition, leaving space for private companies to concentrate on innovation. "Putting it another way, the central bank focuses on its comparative advantage — back-end settlement — and financial institutions and startups are free to focus on what they do best — client interface and innovation. This is public-private partnership at its best," Lagarde claimed.
However, Lagarde's calls for digital currencies sponsored by central banks are likely to be met with indignation by many cryptocurrency hardliners, who advocate the foundational principles of bitcoin. They tend to see bitcoin as a currency that was built for freedom by resisting any form of control, especially that exerted by governments. The involvement of a central bank could be viewed as intrusive, as it could mean that governments would impose unnecessary controls that might hinder transaction speeds, while sacrificing freedom and lower costs. Some legacy financial institutions and businesses have, nevertheless, been attracted to the use of blockchain technology, which underpins cryptocurrency settlements, to process transactions.
Subscribe for latest Videos