The Consumer Protection Council (CPC), on Wednesday condemned arbitrary billing by the electricity distribution companies (DISCOs), calling for aggressive metering to curb estimated billings.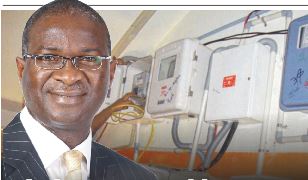 Mr Babatunde Irukera, the Director-General of CPC gave the adviced at the customers' engagement Town Hall meeting organised by the Eko Electricity Distribution Company (EKEDC) in collaboration with CPC in Lagos.
Irukera said that the town hall meeting was necessary to engage electricity consumers directly.
He said that the meeting would enable it fashion out ways to listen and address their complaints in a civilised and matured manner.
According to him, the group disconnection of consumer's electricity without consideration for those paying their bills is an abuse of consumer rights.
Irukera said that engaging with consumers was the best option in resolving consumer's challenges and complaints.
READE ALSO:Electricity: Firm offers free smart meters to companies
He said that power continues to be the greatest challenge being experienced in our country today.
According to him, power is a national challenge as all the value chain in the sector need to come together to address the challenges.
"There is no excuse for the way consumers are treated in terms of poor power supply. However, the key complaints that we have received so far are arbitrary, unsupported and unreasonable billings.
"People are not being treated with dignity. The complaint resolution process is either lacking or unclear and there's really no respect for people".
The D-G said consumers' complaints had not been primarily about supply but about billing for non-existent supply.
"Vast majority of supply complaints are attributed to the fact that you (DISCOs) are asking them to pay for something that was not supplied.
"The other significant complaint by the consumers is the issue of group disconnection.
READ ALSO:Delta community accuses NPDC of of marginalisation
"DISCOs have gotten to a point where no one takes their bills seriously anymore because they are considered outrageous.
" I think the pressure on metering will not be so bad if the estimated billings are more transparent and reasonable" he noted.
Irukera said that group disconnection was usually adopted by distribution companies because of the debts owed by some members of the affected groups.
He said unfortunately, the disconnection undermined the rights of other consumers in the groups with clean slate.
"For me, there's something fundamentally, absolutely irreparable and inexcusably wrong with penalising people because of the conduct of others. It is just not excusable.
"The government should never do that to its people. But if the government does it as a state actor, as inexcusable as it is, it might even be permissible,'' he said
Irukera said that the fundamental principle of fairness required that people should pay for what they used.
"There should be cost reflective billing on consumption, consumers have the right to insist on paying for what they use.
"Estimated billing should be fair and not arbitrary, the group disconnection is unfair, and community should not be held responsible for equipment.
"Transformer should not be community effort, however, it is expected that DISCOs are transparent, sensitive and responsive as a service provider.
"We will ensure that consumers are rightfully billed,'' he added.
Mr Adeoye Fadeyibi, the Chief Executive Officer, EKEDC said the  company had improved tremendously on its customers service delivery system within its operations.
Fadeyibi said that EKEDC had the responsibility to satisfy its customers, adding that the company would try all it could to ensure maximum supply of electricity to its customers.
He said that the company had also stepped up on prompt response to address faults and outage within its network.
He condemned the attitude of some consumers who vandalised its equipment and bypass meters to shortchange the company.
According to him, in spite of our effort in ensuring effective metering within our network to ease customer's complaints, we noticed that over 70,000 customers have not vended (recharged the pre-paid meter) in the last one year.
"Some customers are in the habit of bypassing meters and engaging in energy theft.
"This has also affected the company negatively. Most of our transformers are being vandalised in some areas which cost the company huge amount to replace.
"This are part of the challenges affecting the company, we need to tell ourselves the truth.
"Consumers should also be our watchdog in their various locations by reporting those engaging in energy theft and equipment vandalism.
"The money that was meant to develop other infrastructure has been diverted to repair vandalised equipment,'' he said.
The managing director said that the Metering Assessment Programme (MAP) initiative would go a long way in addressing metering gap within the network.
According to him, the company has metered more than 150,000 customers.
He said that efforts were being made to address the metering gap through the adoption of an interim plan of metering transformers for a more accurate estimation. (NAN)