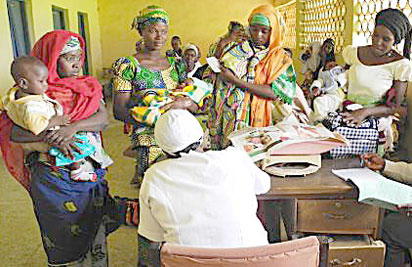 By Gabriel Olawale
Irked by high cases of maternal and newborn deaths due to obsolete equipment, Coca- Cola has launched a 'Safe Birth Initiative' to promote procurement of appropriate equipment and maintenance culture in public hospitals.
The initiative is being champion by Coca-Cola in partnership with the Federal Ministry of Health, the Office of the Senior Special Assistant to the President on Sustainable Development Goals, Medshare International Inc. and Engineering World Health.
Speaking  during a stakeholders workshop and presentation of certificate to trained biomedical engineering in Lagos, Public Affairs & Communications Director for Coca-Cola West Africa, Mr. Clem Ugorji, said that through Safe Birth Initiative, they hopes to promote effective maintenance culture by empowering biomedical engineering technicians with the knowledge, skills, tools and confidence to take responsibility for ensuring maximum uptime for the new equipment, as well as reactivation of abandoned biomedical equipment in the target hospitals.
"There is a limit to what our doctors and nurses can do with just their skills and passion, in the absence of the vital life-saving equipment required for effective diagnosis, testing and treatment", he said.
Ugorji added that the Safe Birth Initiative aimed to support the attainment of the Sustainable Development Goals targets on maternal and newborn deaths reduction.
"We have successfully trained 20 biomedical engineering technicians from 10 medical institutions across the country, comprising university hospitals, federal medical centres and general hospitals.
"The two-week training was conducted by US-based Engineering World Health (EWH) at the School of Biomedical Engineering, Lagos University Teaching Hospital.  He said in addition to completing the first batch of the biomedical engineering technicians training, the consignment of equipment and supplies required for the National Hospital, Abuja had been fully delivered, "the consignments for Federal Medical Centres in Ebute-Metta and Owerri and General Hospital, Alimosho, Lagos among others will be delivered.
https://newlive.vanguardngr.com/2018/10/nigeriall-earn-n620bn-annually-from-egg-consumption-pan/
Ugorji noted that Coca-Cola's commitment goes beyond donating equipment but to promote maintenance culture.
Speaking at the event , Minister of Health, Prof. Isaac Adewole, represented by Dr Adedamola Dada, Chief Medical Director, Federal Medical Centre (FMC), Ebutte-Meta  , Lagos commended Coca Cola Nigeria for SBI and called on the private sector to collaborate with government to free the nation from maternal and childhood deaths.
Also, the Senior Special Assistant to the President on SDGs, Princess Adejoke Orelope-Adefulire, represented by Dr Bala Yusuf  described the partnership as a classic example of what  they can do when they combine  expertise and resources in support of the 2030 SDG agenda.