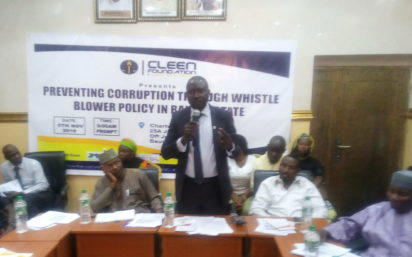 By Charles Agwam – Bauchi
CLEEN Foundation, an international non-governmental organization, on Monday, charged the government of Bauchi state, the media and Civil Society Organizations on the need to adopt the whistle blower policy for effective governance, 2 years after it was adopted by the Federal government.
The Executive Director of CLEEN Foundation, Benson Olugbuo gave the charge at a workshop tagged "Workshop on Whistle Blower Policy in Bauchi State" organized for state ministries, media organizations, civil society organizations in Bauchi.
Olugbuo who was represented by the Assistant Program Manager, Oluwole Ojewale said the programme was to advance anti-corruption in Nigeria by establishing a network of reform minded actors in every geopolitical zone that actively leverages and engages with the justice sector, state and local governments, civil organizations, media amongst others.
According to Ojewale, "We are working to strengthen national/state structures to combat corruption and increase citizens access to government information. This will help to cut down largely on corruption cases in the country.
"A lot of the focus on anti-corruption is at the Federal level. Nobody talks about the corruption going on in our federating states. CLEEN Foundation seeks to create awareness and participation of key stakeholders in our various states as well as make our state governments to commit to the whistle blower policy by making enabling policies and laws to fight corruption".
Highlights of the Workshop include; paper presentations, group reporting, question and answer session, and group photograph.
Vanguard reports that Bauchi state governor, Muhammed Abubakar, in his May Day speech 2017, declared that his government will adopt the whistle blower policy of the Federal government to weed out ghost workers in the state's civil service.