By Ikechukwu Nnochiri
ABUJA – The Chief Justice of Nigeria, CJN, Justice Walter Onnoghen, on Monday, swore-in Justice Julie Abieyuwa Amabor as a member of the Code of Conduct Tribunal, CCT, panel.
The CJN, who administered oath on the new CCT member at the Supreme Court Complex, said there is ongoing effort to subject the Tribunal to the disciplinary control of the National Judicial Coucil, NJC, to enable it to function effectively and efficiently, for good governance of the country.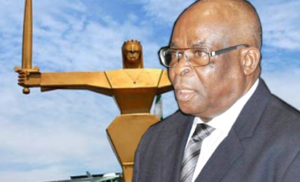 According to a statement that was signed by the Head of Press & Public Relations at the CCT, Mr. Ibraheem Al-Hassan, the CJN equally tasked the new Member of the panel to be above board in her decision and to abide by her oath of office.
"He also drew her attention to always be persuaded by superior decision of the appellate Court in taking decisions.
"The Chief Justice of the Federation warned Judges to avoid any act that will create negative perception on the conduct of Judicial Officers which he said cast doubt on the integrity of the institution.
"He admonished the new member to be a team player in carrying out her work.
"Justice Onnoghen however stated that the fact that the process of appointing the new Member took too long did not mean that the NJC was not concerned about the importance of the CCT.
"He urged her to always stand by her conscience no matter whose ox is gored".
https://www.vanguardngr.com/2018/11/dont-make-us-assume-you-sponsored-ekweremadus-attack-pdp-tells-f/
Al-Hassan said the swearing-in was witnessed by Chairman of the CCT, Justice Danladi Umar, the second member of the Tribunal panel, Justice William Agwadza Atedze and other top management staff of the establishment.