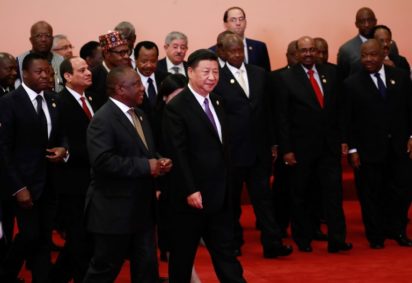 China's President Xi Jinping (front C) walks with South Africa's President Cyril Ramaphosa (front L), Egypt's President Abdel Fattah al-Sisi (middle row 2nd L), Togo's President Faure Gnassingbe (middle row L) and other African leaders after a group photo session during the Forum on China-Africa Cooperation in Beijing on September 3, 2018. President Xi Jinping told African leaders on September 3 that China's investments on the continent have "no political strings attached", pledging $60 billion in new development financing, even as Beijing is increasingly criticised over its debt-heavy projects abroad. / AFP PHOTO / POOL / HOW HWEE YOUNG
By Luminous Jannamike
ABUJA – African Development Bank, AfDB, has expressed concern that many African owned firms are forced to drop out of the market due to unfair competition from Chinese companies.
Senior Director, AfDB Nigeria, Mr. Ebrima Faal, said this during the weekend at the African Economic Merit Awards (EAMA) World Plaque and Award Nominees unveiling ceremony in Abuja.
He said with the freedom to operate in all sectors and with access to capital and better technology, Chinese firms have gained market power and dominance over African companies in recent times.
According to him, recent research shows that 31 percent of Chinese firms in Africa are involved in manufacturing, 25 percent in services, 22 percent in trade and 15 percent in construction and real estate.
Faal, who was represented by AfDB's Regional Procurement Coordinator, Baba Abdullahi, said: "Chinese firms operate across many sectors of the African economy. With the freedom to operate in all sectors and with access to capital and better technology, the Chinese firm have gained market power and dominance in recent times.
"As such, many African owned firms are forced to drop out of the market due to competition. This has forced several African firms to close down."
Other areas of concern Mr. Faal raised on the China-African economic relationship include the growing size of debt, the financing of projects through Chinese State-owned companies, and the acquisition of African firms by Chinese corporates.
His words: "There are growing concerns that lending rather investments dominates China's relations with Africa. With the downturn in commodity prices, some countries that borrowed heavily from China have turned to the IMF (Angola and Ghana, for example). Others have suspended, failed to draw down, or cancelled their credit lines from Chinese banks (Niger, Ghana, and Chad).
"At the September 2018 FOFAC Summit, China pledged US$60 billion in loans, aid and investment. This amount was the same as that pledged in 2015, which was three times the figure announced in 2012. The latest financing brought the total support to Africa countries to US$120 billion in three years.
"There have also been additional concerns that most of the project financing has focused on transportation and energy, and Chinese state-owned enterprises have been key actors behind such projects.
"Among China's large scale projects in Africa for 2015 and 2016 especially those requiring more than $1 billion, about 13- 15 of such deals were initiated by China State owned enterprises rather than private firms. Critics also argue that China's investment in Africa is mainly resource seeking rather than transformational.
https://newlive.vanguardngr.com/2018/10/falana-how-to-strengthen-african-commission-and-ngos-to-combat-corruption-in-africa/
"There are concerns that announced mergers and acquisitions by China in Africa were less than $1billion, below Chinese merger and acquisition deals in Latin America known to be well over $10billion."
However, Mr Faal said the few China merger and acquisition deals in Africa are in energy and infrastructure sectors only, which according to him "suggests that Chinese corporates are not interested in acquiring companies in Africa."
Speaking earlier, AEMA President, McEva Temofe, said the awards aims to make a difference in Africa by improving relationship between successful African leaders and the young entrepreneurs.
"We are working diligently in linking our in-depth knowledge in economic growth in education, agriculture, technology, and health with the needs of our people at the grassroots," he said.
https://newlive.vanguardngr.com/2018/11/thanks-to-access-bank-tutu-enwonwus-masterpiece-makes-surprise-showing-at-art-x-lagos/