Catholics in the country joined their counterparts worldwide on Sunday to mark the feast of Christ the King.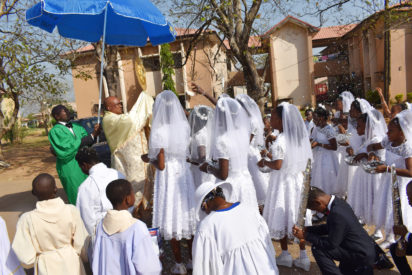 According to church history, the Solemnity of Our Lord Jesus Christ, King of the Universe, commonly referred to as the Feast of Christ the King was instituted in 1925 by Pope Pius XI.
During the celebration Catholics go on procession, singing praises, while a priest carries the Eucharistic in a monstrance to pray for peace.
At the Saint Peter and Saint Paul Catholic Church, Tedi, Ojo, Lagos, members also joined in the feast, as well as offered prayers for peace in Nigeria.
The News Agency of Nigeria reports that the feast, which started with a Holy Mass, was full of symbolic expressions of the royal status of Jesus Christ as the king of the universe.
The climax was recitations and parishioners procession along major streets in the area.
In his sermon, the Priest of the church, Rev. Fr Pascal Ahanonu said that Christ, as the universal king, has the solutions to all the problems of mankind.
Ahanonu charged the Faithful to remain resolute in their faith in Christ and always run to Him in prayers for all their anxieties and infirmities saying that He alone can give without asking for a reward.
According to him the event is significant to the nation because the people of Nigeria are going into a general election to choose their leaders in few weeks time.
"The church have to stand as point of contact to God in praying for His intervention in Nigeria, for His direction to enable us have good leaders.
"The church have a tradition of referencing God in time of need through solemn prayers as was offered today for a positive result.
"So, what the congregation have done is to present our country before God for healing," the priest said.
He said that as a people, the church cannot isolate herself from the larger Nigerian society, hence the prayer for a spiritual healing of the land.(NAN)