By Victor Arjiromanus
The Nigerian Institution of Estate Surveyors and Valuers (NIESV) has asked the Lagos State government to carry them along in the building of the new city, Eko Atlantic City.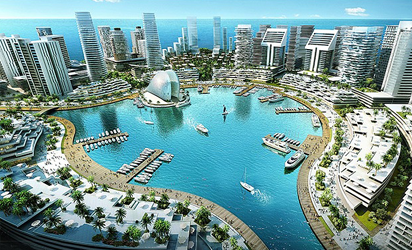 The National president, NIESV, Mr. Rowland Abunta made this known during the third council meeting in Lagos, Saturday.
Speaking to journalists, Mr, Rowland said: 'While we appreciate the Lagos state government for their patronage, we must also recommend that in the building of the new city, Eko Atlantic City, Estate surveyors be carried along as the ultimate managers of the Eko Atlantic City, because what happens in our nation is that we do not plan for after development management, and for the volume of investment being made in the Eko Atlantic City, we recommend the state government to partner with our professional body, to get value for their investment in Eko Atlantic.
'I am talking about the infrastructure in the Atlantic city and the public buildings in Eko Atlantic city and of course, the management of that city as an estate as it where. All falls under the purview of estate valuers to manage'.
He expressed optimism that their visit to Lagos, will touch on the economy and the way of doing business in Lagos state.
He also said the conference which will be holding in Lagos, was because, Lagos is a reference to other cities, and that Lagos has a historical significance to the formation of the organization.
https://www.vanguardngr.com/2018/11/2019-tinubus-influence-grossly-overestimated-ezekwesili/
He said: 'We are here in Lagos for this special meeting. It special in the sense that Lagos state branch would be hosting the 2019 conference of Nigerian institution of Estate surveyors and valuers which team is 'The City that works' and of course we know that Lagos state is a big city and also an exemplary city in our nation, because many other cities take reference from here on how to run their cities.
'As professional body that is the foremost in the management of the built environment, our coming to Lagos is historic, because the formation of the profession started around here by the first generation of Estate surveyors who trained in Britain and then returned in Nigeria to form a body that is similar to Royal institution of Chartered surveyors. Lagos is also special to us because, this is a city where sixty percent of our members practice.
''We have the opportunity to visit the Hon. Commissioner for works and infrastructure, Engr. Adebowale Akinsanya who the governor mandated to represent him. There, we discussed things pertaining to real estate in the state and inform the host about the functions of our profession, and then we extended an invitation to the government to partner with us on this conference that has the theme 'A city that works'. The honorable commissioner gave us their consent and that the state government will participate in the event.
https://www.vanguardngr.com/2018/10/housing-government-of-this-country-prefers-short-cut-instead-of-planning-ahead-adediji/