By Johnbosco Agbakwuru
ABUJA—PRESIDENT Muhammadu Buhari, yesterday, in Paris, France, told Nigerians outside the shores of the country that they will not participate in the 2019 general elections.
The President also heaped the dwindling fortune of the education sector at the doorpost of Nigerian elites, accusing them of tolerating the fall in standards and structures of education institutions, despite oil windfalls in the past that would have made all the difference.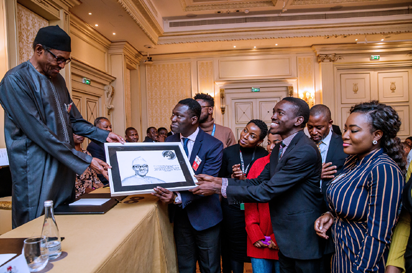 Speaking during an interactive session with the Nigerian community in Paris, on the sideline of the Paris Peace Forum, President Buhari said about five percent allocation to the education sector was inadequate to propel the desired growth for the economy, pointing that United Nations target of 26 percent remained ideal.
On the participation of Nigerians in Diaspora in the forthcoming elections, the President said the population of Nigerian citizens in various countries across the world already necessitate their inclusion to elect leaders, noting that it might not happen in the 2019 elections as the Independent National Electoral Commission, INEC, had been more focused on strengthening and consolidating on its achievements of conducting credible elections within the country.
https://www.vanguardngr.com/2018/11/atikus-search-a-premeditated-intimidation-tactic-apco/
He said: "I am doing my best now to utilise our resources to develop the country. We are already getting results on road, rail and power. My frustration is that some people still have plenty stolen monies stashed in Europe, US and other countries."
He said it could happen in future, the President said the Constitution had taken into cognizance the need for representation in the political structures to ensure harmony, urging more people to pick interest in governance and quality representation.
…tasks elites on standard of education
President Buhari enjoined Nigerian elites, both at home and in the Diaspora, to do more to contribute to the education sector of the country, expressing surprise that the elites tolerated the fall in standards and structures of educational institutions, despite oil windfalls.
In her remarks, Nigerian Ambassador to France, Dr. Modupe Irele, said the Nigerian community in France had demonstrated high sense of responsibility, dedication and morality, adding that professionals had been encouraged to also contribute to the country's development.