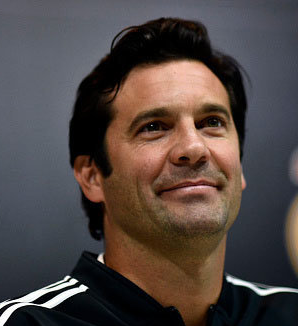 santiago solari
Santiago Solari confirmed as Real Madrid coach until 2021- club
santiago solari
Santiago Solari on Tuesday was confirmed as Real Madrid coach until 2021 following his successful spell in charge as caretaker boss of the European champions.
"Real Madrid's board of directors met today and decided to name Santiago Solari as first team coach until June 30, 2021," the club announced in a statement.
Solari's anointment as sacked Julen Lopetegui's permanent successor comes after wins in his first four matches.
And with 15 goals scored and only two conceded the 42-year-old Argentinian has established the best ever start for a Real manager.
After thrashing Melilla in the Copa del Rey, they won 5-0 away to Viktoria Plzen in the Champions League, between victories over Real Valladolid and Celta Vigo in La Liga.
The upturn has left Madrid only four points adrift of league leaders Barcelona and on the brink of qualification for the last 16 in Europe.
Solari was handed the reins on a temporary two-week basis on October 29 after Lopetegui had overseen a miserable run that included just one victory in seven games.
The last of those, a 5-1 thumping at the hands of Barcelona, proved the final straw for club president Florentino Perez but the team have rebounded under their new coach.
News that he had been rewarded with a permanent contract surfaced on Monday when the Spanish federation announced: "Everything is in order. Real Madrid have worked out his contract and there are no problems."
https://newlive.vanguardngr.com/2018/11/germanys-football-stars-build-bridges-with-fans-at-school/
The Spanish press had urged Real to appoint the former Castilla 'B' team coach.
Solari's maiden match as long-term boss is the trip to Eibar in La Liga on November 25, following the international break.
Zinedine Zidane also stepped up mid-season from coaching Castilla in 2016 and led the team to the first of three consecutive Champions League trophies five months later.
This is Solari's maiden job in charge of a first team.
Antonio Conte, Mauricio Pochettino, Jose Mourinho and Joachim Low had all been linked to the position.
https://newlive.vanguardngr.com/2018/11/were-not-robots-higuain-begs-for-missing-penalty-in-milan-vs-juventus/