The Atiku Presidential Campaign Organization (APCO) Headquarters located at 120 Adetokunbo Ademola Crescent Wuse 2, Abuja, on the 10th of November 2018, played host to a summit by the Atiku Medical Volunteers (AMV).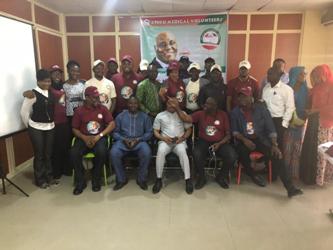 The AMV is the medical body responsible for giving form and structure to the medical outreach of the Presidential candidate of the People's Democratic Party.
It had in attendance the National Co-ordinator, Professor Seyeifa Brisibe, the National Director of Publicity Dr. Andrew Warri and the National Secretary Dr Felix Idah Woboso.
Asset Declaration: Court declines to order Ekweremadu's arrest
Also in attendance were some of the Nigerian Medical Association state coordinators of the AMV in some of the geo-political zones.
The National Co-ordinator used the opportunity to share the vision behind the AMV and the role it is expected to play in ensuring the presidential candidate of the PDP is successful in the 2019 elections.
The National Secretary of the Organization in his own remark stated that the organization encompasses all the professionals in the medical field geared towards the sole aim of ensuring the success of the PDP in the forth-coming elections.
NAFDAC sensitises farmers against wrong application of agrochemicals
He also stated that the organization would be following the Presidential Flag bearer of the PDP, Alhaji Atiku Abubakar on his campaign train round the country, as the AMV will be involved in medical outreaches.
In a presentation titled 'the Role of Medical outreaches in Political campaigns' delivered by Dr. Godday Akor, it was stated that AMV can galvanize the medical profession to use its structure to mobilize votes for PDP.
AMV plans to use strategies like doctor-to-patient relationship to canvass vote for Atiku Abubakar.
At the end of the summit, a communiqué was presented outlining the stand of AMV.