Sen. Abdullahi Gumel has said that poor development and lack of social amenities at the border towns across the country were major reasons for continued conflicts and insecurity just as he lamented that at night you will see light (electricity) in Cameroon border towns but no light in Nigeria's.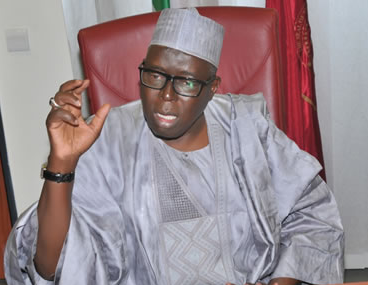 Gumel, Chairman Senate Committee on States and Local Governments, made this assertion in an interview with newsmen at the end of the committee's oversight visit to National Boundary Commission and Border Community Development Agency in Abuja.
The lawmaker attributed the challenge to poor funding of border agencies, leading to insecurity and growing conflict in over 90 communities across the country.
He said the poor funding of the agencies, which were critical to conflict resolution and provision of projects in border towns, was worrisome.
The lawmaker said that the committee discovered during its oversight that capital release for each of these agencies was only 10 per cent in seven months, adding that it was grossly inadequate.
He stressed that the agencies had not been able to carry out their mandates effectively, leading to sabotage and lack of allegiance from Nigerians, particularly for those in border towns.
"I know we have conflict in about 96 communities across the local governments as well as interstate conflicts.
"Ideally, the zonal offices of the National Boundary Commission ought to be up and doing in notifying the headquarters of looming conflict to ensure proactive measures that would prevent crisis.
"Unfortunately, that is not happening for lack of funds.
"We appreciate what the commission is doing with meagre resources, and we promise to get to the Executive arm to increase ensure increased funding," he said.
Gumel said a lot needed to be done in securing the allegiance of border towns to prevent sabotage or security concerns.
He further noted that the Border Community Development Agency, in particular, was very important in providing basic amenities and should be adequately funded.
"We have 22 states out of the 36 states and Abuja, which have border either with other countries or with the Atlantic Ocean.
"We are very conscious of the security implication of not taking care of our border towns.
"When they are not taken care of, they will be attracted to other countries, which are willing to provide medical care, schools, water and other amenities.
"In one of our oversights we went to Banke, a border town, that is separated by road between Nigeria and Cameroon.
"In the night you will see light in the Cameroon part but no light in the Nigerian part. Even the network they are using is from Cameroon.
"In a situation where our border communities are not enjoy such amenities including education and medical care among others, it will be difficult to stop any act of sabotage from such country.
https://www.vanguardngr.com/2018/10/migrant-caravan-trump-deploys-5000-troops-to-mexico-border/
"However, if same amenities are made available to them by the Nigerian government, if there is any sinister move, they would quickly alert the necessary authority," he said.
Gumel said that all hands must be on deck to tackle the menace, noting that a lot of prominent Nigerians were from border states and could not afford to allow such to continue.
He said, "the President is from Katsina, which is a border state, the Vice President is from Ogun State, which is also a border state.
"Also, the President of the Senate is from Kwara, which is a border state. I am from Jigawa, which is also a border state.
"So, we are all aware of the challenges these people are facing and much more needed to be done to tackle the negative effect this is having on the economy."
The News Agency of Nigeria (NAN) reports that the Executive Secretary, Border Community Development Agency, Captain Junaid Abdullahi, in the course of the oversight, said the agency was underfunded.
He noted that it was a strategic agency of the government charged with provision of infrastructure to border communities but could not achieve optimal performance for paucity of funds.
He said, "It is important to this country because the border areas are the gateway into the country and we need to provide people in those areas with amenities.
"That is to ensure they have no need to look across the borders seeking any social infrastructure or services from neighbouring countries.
"Because of the vulnerability of the border areas, it is susceptible to infiltration by undesirable elements that threaten the security of our country."
On 2018 budget performance, Abdullahi said the agency received its first capital allocation of 10 per cent in September.
Similarly, the Director General of the National Boundary Commission, Dr Muhammad Ahmad called for increased funding to enable the commission carries out its mandate effectively.
https://www.vanguardngr.com/2018/11/poor-funding-causes-strike-in-varsities/
The National Boundary Commission was established to among others, settle boundary disputes between states and local government areas in the country.
The Border Communities Development Agency was established to ensure sustainable social, economic and infrastructural development of border communities in Nigeria.
https://www.vanguardngr.com/2018/11/poor-funding-causes-strike-in-varsities/