By Onozure Dania
LAGOS—THE Court of  Appeal, Lagos Division, yesterday, adjourned till February, 7, 2019, to hear an appeal filed by former Abia State Governor, Dr. Orji Uzor Kalu, against the ruling of Justice Mohammed Idris of a Federal High Court in Lagos, which  dismissed his no-case submission over an alleged fraud charge preferred against him and two others by the Economic and Financial Crimes Commission, EFCC.
The Court will also hear separate appeals filed by Kalu's co-accused, Udeh Jones Udeogu and Slok Nigeria Limited, in similar circumstance.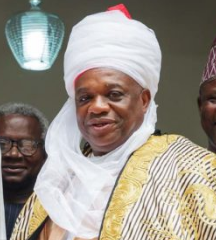 The presiding justice, Justice Garuba Lawal, fixed the date after listening to arguments of appellants' lawyers; S. E. Elema, SAN, Solo Akuma, SAN, and K. C. Nwofo, SAN, over the transmission of record of appeal.
EFCC was represented by Adebisi  Adeniyi.
Justice Idris had on July, 31, 2018, held that Kalu has some explanations to make particularly on certain documents tendered by the EFCC as exhibits in evidence against him.
Justice Idris said: "I am of the view that the defendants have some explanations to make in the light of the exhibits and the evidence so far led. Again, I will say no more. The no-case submission is dismissed."
But dissatisfied, Kalu through his lawyer, Chief Awa Kalu, SAN, filed a notice of appeal dated August 1, 2018, asking that the lower court's verdict be overturned.
The former governor is consequently asking the Court of Appeal to set aside the ruling of the Federal High Court delivered in respect of the case on July 31.
https://www.vanguardngr.com/2018/11/reactivate-forgery-case-against-aregbesola-osun-pdp-urges-igp/
Subscribe for latest Videos