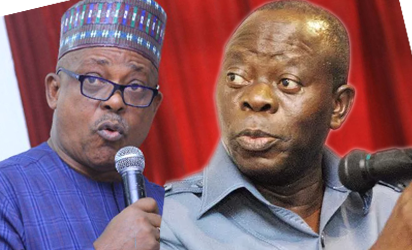 PDP chairman, Uche Secondus and APC chairman Adams Oshiomhole
By Peter Duru
Makurdi – The Peoples Democratic Party, PDP, in Benue State said it has uncovered plot by the All Progressives Congress, APC, to buy Permanent Voters Cards, PVCs, from victims of herdsmen crisis in the state currently taking refuge in Internally Displaced Persons, IDPs, camps.
The party in a statement through its Publicity Secretary, Bemgba Iortyom, said credible intelligence at its disposal indicated that the APC was targeting to manipulate and rig the coming 2019 general election in the state.
Part of the statement read,"this rigging scheme was launched by the party on the day it staged a decamping ceremony inside the Internally Displaced Persons IDPs camp at Daudu.
"To have staged a decamping ceremony inside an IDPs camp alone was a record showing of moral depravity and conscienceless desperation, yet APC went a step further down the path of infamy with their agents secretly offering monies ranging between N5,000 and N10,000 to displaced persons at the camp in exchange for their PVCs while the charade of a decamping ceremony lasted.
"The scheme has since then continued by the opposition party in the state with their agents going about secretly to IDPs camps and as well to residences housing those victims of herdsmen attacks offering to them various sums of money in exchange for their PVCs.
"This development is not only obnoxious and nefarious but targeted to undermine the very institution of democracy which stands as the most prized asset Nigerians have next to the corporate entity of the country.
"Moreover, this scheme amounts to wickedly rubbing salt into the injuries of Benue IDPs who are suffering today because the APC controlled federal government failed to protect them from the swords, knives and bullets of Fulani herdsmen who have for years killed, maimed and plundered our land at will and unchallenged.
"We, therefore, call on the good people of Benue State to rise up and condemn in the strongest possible terms this dastardly scheme by APC, and we urge all internally displaced persons to shun the devilish offer to sell their PVCs to the same party that has been responsible for their plight.
"Furthermore, we challenge security agencies to launch their own investigations into this matter and bring the perpetrators to book to safeguard and preserve our priceless institution of democracy, in the best interest of the Nigerian nation."
https://newlive.vanguardngr.com/2018/11/ondo-central-election-a-contest-of-records-and-achievements/
Reacting, the Benue state APC Director of Publicity, Mr. Peterhut Apeh, said, "the allegation is all false and life propaganda. They are running from pillar to post with propaganda because they do not have what to campaign with hence this story."
https://newlive.vanguardngr.com/2018/10/well-resist-plot-by-herdsmen-to-orchestrate-leadership-change-in-benue-byf/