Governor Rochas Okorocha of Imo State and the All Progressives Congress, APC, governorship candidate in 2019 elections, Senator Hope Uzodinma, were yesterday locked in a war of words over the party primaries in the state.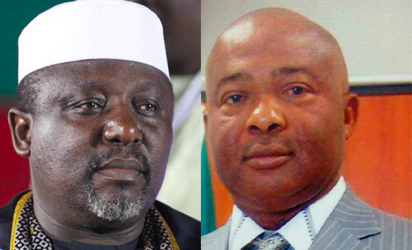 While the governor in a strong language alleged that Senator Uzodinma was burdened by at least two criminal cases, besides standing on a wealth of unknown means, including issuance of dud cheques, Uzodinma said Governor Okorocha was referring to a non-existent cheque.
The governor's assertion continued in a 10-point poser to Uzodinma, following the candidate's assertion that the governor had underestimated his, (Uzodinma's) popularity.
Okorocha, in a statement articulated by his Chief Press Secretary, Onwuemeodo, said:  "Chief Uzodinma should face his two most recent criminal charges over the issuance of Dud Cheque and non-declaration of assets. We won't talk about other similar cases.
"Chief Hope Uzodinma is not a member of APC in Imo State. His purported membership of the party was announced in Abuja. He has never attended any APC meeting either in his ward or in his local government, Oru-East, or at the state level.
"That is why no APC member in the state was excited when the party's National Chairman, Comrade Adams Oshiomhole, announced him as his preferred governorship candidate of the party in the state.
"Since Chief Uzodinma has begun to throw stone not considering the fact that he lives in a badly constructed glass house, we challenge him to publish his profile for the public to see and let Rochas also publish his own. Rochas Okorocha was born in Ogboko, and he grew up in Jos. He attended St. Joseph Primary School, Barkin Ladi Jos, and Juladaco High School Jos. He has LLB and LLM of the University of Jos, Post – Graduate Diploma in Management, of the Benue State University."
Okorocha referring to a non-existent cheque  — Uzodinma
Meanwhile, the Director of Media and Special Duties of Senator Hope Uzodimma campaign organisation, Mr. Declan Emelumba, said Okorocha referred to a non existent cheque.
He said: "Imo State government is referring to a non-existent dud cheque issue and phony assets declaration matter. Imo State Government has only confirmed an open secret which is that they are behind the two baseless issues.
https://www.vanguardngr.com/2018/11/nwosus-ambition-in-gods-hand-okorocha-tells-oshiomhole/
"We know that it was Imo State government that sponsored the jankara Abuja magistrate judgement over a matter between two corporate citizens which a magistrate court has no jurisdiction just to smear the Senator's intimidating image.
"They are also behind the baseless assets declaration issue to achieve the same gaal. But on each they failed woefully
"Is Imo State government now the state, LGA and ward secratariat of APC? This only goes to confirm that Okorocha and his cohorts believe that Imo State and APC are their personal estates.
"They are still dreaming and I think they should continue to wallow in their dreams."
The Uzodimma's campaign organization also challenged Okorocha,   "to tell us the year Okorocha got the so called L L B and LL M from the University of Jos so that we can expose their falsehood. "We don't know what they are implying by talking about certificates but if its to imply that Okorocha is better educated than anybody then they must be told the bitter truth which is that he is not in a position to talk about certificate."
https://www.vanguardngr.com/2018/10/uzodinma-vs-nwosu-imo-apc-asks-judge-to-hands-off-suit-alleges-bias-2/