By Emem Idio
YENAGOA—All Progressives Congress, APC, in Bayelsa State and the state government were yesterday engaged in diatribe over an alleged fraud in the International Cargo Airport built by the administration of Governor Seriake Dickson in the state.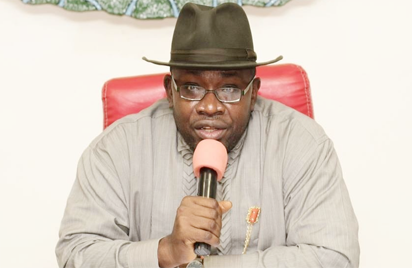 The party threatened that it would jail the governor after his tenure over the matter.
The APC described the state airport project reportedly scheduled for inauguration soon, as a "cesspit of fraud", adding that the project was a fraudulent scheme put up by Governor Dickson to facilitate the siphoning of state funds.
The state government in its reaction, described  the APC in the state under the leadership of former governor, Timipre Sylva, as a ''rejected party  of sick, confused people."
The APC, in a statement yesterday in Yenagoa, by its  Publicity Secretary, Doifie Buokoribo, said Governor Dickson should be prepared to stand trial for alleged crimes against the people of Bayelsa State.
According to the party: "The  Bayelsa airport project is clearly the most expensive airport project in Nigeria, as none of the 26 owned by the Federal Government or the eight owned by states is near that figure.
"The airport is economically unviable as it lacks vital intermodal network for easy accessibility.
"Governor Henry Seriake Dickson collected N40 billion credit facility from a commercial bank to commence work on the project. As against the initial estimated cost of N40 billion, the Bayelsa State governor disclosed in Amassoma, Southern Ijaw Local Government Council, on May 26, 2018 that N80 billion had already been spent by the state government
"When added to the new figure, and the interest of N32 billion, the cost comes to N112 billion. It is clearly the most expensive airport project in Nigeria.''
However, the state government in a statement by  the Commissioner for Information, Mr. Daniel Iworiso-Markson, said the APC had become a leprous organisation.
He said: "Timipre Sylva and the APC once told Bayelsans that the Nembe Road had no economic value but he uses that road to his community anytime he visits Bayelsa.
"The same clique of politicians bereft of ideas is saying the Bayelsa Airport does not have economic value in their desperation to criticise and condemn anything PDP.
"The fact is that APC is a sinking party of sick, confused minds, who lack the capacity to see tomorrow."
https://www.vanguardngr.com/2018/11/steer-clear-of-bayelsa-state-pdp-warns-buhari-others/