The Chief of Air Staff, Air Marshal Sadiq Abubakar, on Saturday said various air interdiction missions conducted by the troops had substantially degraded Boko Haram insurgents in the northeast and Lake Chad regions.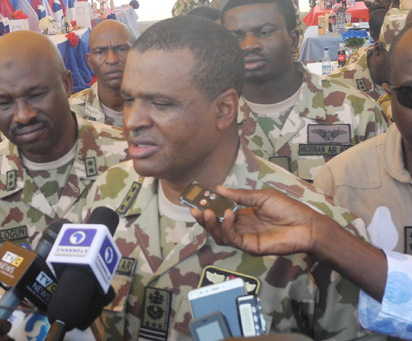 Chief of Air Staff, Air Marshal, Sadique Abubakar, speaking to newsmen.
Sadiq, who visited Maiduguri to review progress of the operation, disclosed that several Boko Haram insurgents' hideouts were destroyed by airmen in the past three days.
The Nigeria Air Force, on Nov. 14, embarked on Operation Green Sweep to clear remnants of the insurgents on the fringes of Sambisa Forest, Alagarno and Lake Chad region.
"The operation is going on very well. We have substantially achieved what we want to achieve and the operation will continue until we achieve its objectives.
"The objectives are very clear; to further degrade the Boko Haram insurgents; make it difficult for them to have freedom of action from where they are operating, from the selected targets.
The ones we were able to attack and dealt with, I believe we have substantially achieved what we set out to achieve.
"What we came out to do is to conduct air interdiction missions and we have clearly defined what are the objectives of the operation, and from what I had been briefed this afternoon, it was clear that we had substantially achieved what we set out to achieve.
https://www.vanguardngr.com/2018/10/we-pay-n100-daily-to-sleep-under-oshodi-bridge-miscreants/
"The operation will continue to support the theater in its other operations and also make sure that we support the Multi-National Joint Task Force (M-NJTF) in the conduct of its operations."
Abubakar said effective measures had been adopted to ensure adequate provision of logistics and personnel, to facilitate successful implementation of the exercise.
NAN also reported that the Chief of Air Staff had inspected ongoing projects at the NAF Composite Command, Maiduguri.
The projects include the new Air Task Force Office; crew room, armoury, airmen and women accommodation. (NAN)
https://www.vanguardngr.com/2018/11/operation-green-sweep-naf-records-successes-in-borno/
Subscribe for latest Videos