By Festus Ahon
ASABA-EXECUTIVE Director, Projects, EDP on the board of the Niger Delta Development NDDC, Engr Samuel Adjogbe, has commended the President Muhammadu Buhari's administration for its commitment towards alleviating poverty in the country through the Social Investment Project, SIP.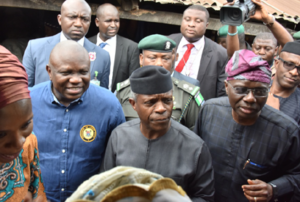 Adjogbe who made the commendation in Port Harcourt, Rivers State, shortly after being honoured with a merit award by the Urhobo Solidarity Club, according to a statement issued by his media assistant, Ogheneovo Itefue, said "human capital development is one area the Buhari administration has displayed rare commitment to".
The EDP who was represented by his Technical Assistant, Mr Nelson Onwo, said; "in view of this commitment the NDDC have relentlessly sponsored several skill acquisition programmes across the Niger Delta region'
"For the first time through the TraderMoni Scheme, we are seeing a government making conscious efforts to reach out to traders, giving out collateral free loans while encouraging them to repay timeously, with availability of further loans as an incentive."
Adjogbe, who is Patron of the Buhari Support Group Centre BSGC, South south Zone, said; "Besides increasing the capital base of these petty businesses, one must not fail to add that this effort would boost the economy in the long run."
While thanking the organizers of the event for the recognition, he said every achievement of the NDDC was attributable to the mandate of President Muhammmadu Buhari for the Niger Delta region.
Presenting the award, President of Urhobo Solidarity Club, Dr Henry Sota said "the award is in recognition of the recipient's hard work and showing promise in executing significant infrastructural development in Urhoboland."
Noting that Engr Samuel Adjogbe has exuded rare dedication as Executive Director, Projects in the NDDC, he said such attributes were evident in excellent projects delivery across the Niger Delta region.