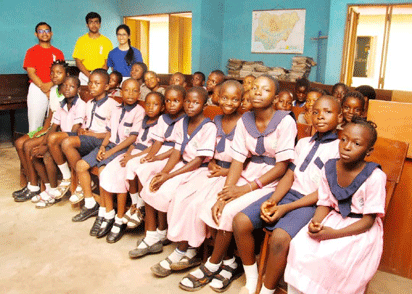 *A cross section of Ilupeju Primary School students.
…restates commitment to women empowerment
By Josephine Agbonkhese
Perturbed by the difficulty faced by girls in rural communities to access distant schools—a phenomenon largely accountable for the over 5.5million out-of-school girls in the country, Simba Group recently donated 24 bicycles to school girls in Abuja
Making the donation at an event organized in commemoration of this year's Day of the Girl-Child by the National Centre for Women Development in collaboration with the Office of the Wife of the President of the Federal Republic of Nigeria and the Federal Ministry of Agriculture and Rural Development, Business Head, Simba Group, Mr Manish Rohtagi, said increased access to education for girls was key to women empowerment.
Lagos disburses N178.431m to beneficiaries of deceased subeb staff
He said: "The key path to the empowerment of women is access to education for girls. And when it comes to access, being able to reach the school is fundamental. Our programme is based on the very strong belief that a bicycle can help alleviate the challenges girls face to go to and from school based on examples in Kenya, India and other places.
"This is why Simba Group is focused on enhancing access to education through our 'The Greatest Gift' programme, which provides bicycles to girls so that they can more easily get to and from school."
Rohtagi who also spoke about the group's commitment to the empowerment of Nigerian women, said the company had in the past involved in various initiatives in the area of women and girls' empowerment, including enhancing access to education, creating employment opportunities and training.
"We have, for example, been commended for our Queen Rider's Programme; an initiative aimed at enhancing access to Mini Entrepreneurship for women, through the ownership and/or operation of Keke (tricycles), under our flagship brand, TVS King.
Nigerian women urged to be "Unstoppable" as WIMBIZ convenes 17th annual conference
Speaking further, Rohtagi stressed the importance of both the public and private sectors playing their parts in increasing access to education for girls by providing bicycles for every girl-child, particularly in areas where the distance between home and school is great.