A group in Adamawa has raised the alarm over what they described as the worsening cases of abductions, armed robbery and other criminalities in their communities.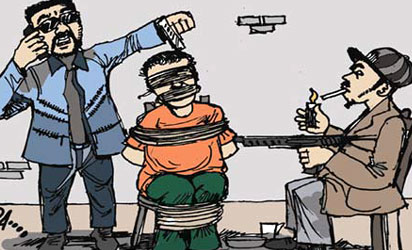 The National Chairman of the Yungur Area Development Association, Mr Jones Abonemdan, told the News Agency of Nigeria (NAN) on Saturday in Yola that communities in the Song Local Government Area of the state had been taken over by criminals.
He said that residents of communities, including Dumne Dirma District, Batum, Koti, Bwadai, Kindo, Dadin Kowa, Dur-Pra and Kwah-Gwardina villages had not known peace in recent months.
Ten police injured, 30 people arrested at Algerian top-flight match
"Between August and October this year, nine people were kidnapped at different locations while harvesting on their farms or staying in their homes."
He explained that among the people abducted were three women and six males.
Adamawa has been a hotbed of the Boko Haram insurgency, which has ravaged communities in north eastern Nigeria for almost a decade.
The jihadists are fighting to enthrone a strict Islamic code but Nigerian troops have taken them up and decimated them over the years.
Abonemdan disclosed that over five million naira had been spent by various communities since last August, to secure the release of their people from captives.
"Our people have been forced to stop going to their farms to harvest for fear of being robbed or kidnapped in broad day light.''
He lamented that the Police Division established in Dumne community to provide security for over 50 villages had only 20 policemen, whom he said, also lacked equipment.
Abonemdan appealed to the Adamawa State Police Command to rise to the occasion to end the criminality in the communities.
NAN