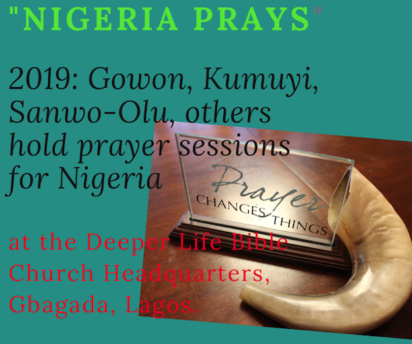 Ahead of the 2019 general election which comes up in Febuary General Yakubu Gowon, General Superintendent, Deeper Christian Life Ministry, Pastor W F Kumuyi and many other men of God have organised a special pray service at the Deeper Life Bible Church Headquarters, Gbagada, Lagos.


The special service which holds on Sunday according to a release from the office of the General Superintendent, Deeper Christian Life Ministry, Pastor W F Kumuyi, the Summit is to draw up sufficient prayers and heart-cry for the nation which is undergoing testy times and which is primed to hold elections three months from now.
As a prelude to the very strategic service, Pastor Kumuyi urged all Saints of God, within and out Nigaria never to give up on their fatherland, stressing that what men cannot achieve through human efforts, he can always be accomplished when the redeemed of the Lord pray unto Him for succor and for divine intervention.
The cleric further declared that not only is it essential for believers to consistently intercede on behalf of their nation as Daniel did for Israel while in captivity, officials of government at all levels should always be invited and drawn to God's presence as a salutary acknowledgement and acceptance of God as the only fitting solution to the nation's gargantuan challenges.
It will be recalled that the Convener of Nigeria prays, General Yakubu Gowon had similarly remarked that Nigeria's problems can be solved faster and better than physical weapons of war.He also noted that God would honor the collective prayers and intercessions of Nigerians for the nation and heal the nation's wounds.
Highlights of the service will include powerful prayer sessions and a goodwill message by General Gowon. Pastor W F Kumuyi, the host pastor, will deliver the message at the service.
The Governors of Lagos, Bayelsa, Edo and Ekiti states, Mr Akinwunmi Ambode, Hon. Seriake Dickson, Mr Godwin Obaseki and Dr Kayode Fayemi respectively will grace the occasion.Mr Jide Sanwo-Olu, a governorship candidate in Lagos state will also attend the intercessory service.
Other distinguished personalities from all walks of life are also expected at the service which will be broadcast globally.