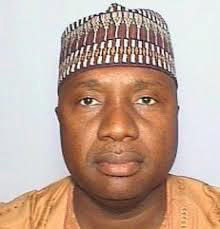 Gov. Mohammed Bindow Jibrilla
Gov. Mohammed Bindow of Adamawa on Monday assured members of the All Progressives Party (APC) in Guyuk Local Government Area of Adamawa of constituting an all-inclusive government if re-elected in 2019.
Bindow made the promise while receiving former political office holders from Guyuk led by Mr Galian Yahga in Yola.
The governor, who spoke through Chief Felix Tangwami, Director-General of Bindow Campaign Organisation for 2019 Elections, said that he had enormous respect for Guyuk people.
PRIMARIES: Kebbi APC sets up reconciliation c'ttee
He also urged the people to brace up for the campaigns while assuring them of involvement of all members of the party.
He also promised to establish his campaign offices in all political units in the state.
Bindow urged the delegation to explain to the electorate the achievements of the APC administration at both state and national levels.
Earlier, Mr Galian Yahga, leader of the delegation, assured the governor of their resolve to vote all APC candidates contesting in the forthcoming elections.
Labour strike : Some marketers reluctant to sell petroleum products in Kano State
Yahga, who is also the Secretary of the Party in Guyuk local government area, commended the governor for appointing Tangwami as the director-general of his campaign.
Newsmen report that the delegation comprised former councilors, local government chairmen and former assembly members, among others.
NAN