Brig. Gen. Sule Kazaure, the Director-General of the National Youth Service Corps (NYSC) has urged corps members to shun partisan politics as the 2019 general elections draw near.
Kazaure gave the charge in Abia and Jigawa on Thursday during his official visits to the NYSC orientation camps of Batch "C" Stream 1, 2018 in the two states.
In Abia, the DG who was represented by Mrs. Linda Amugo, the Acting Director, Certification, NYSC, appealed to corps members not to give in to pressure from politicians and cause violence during elections.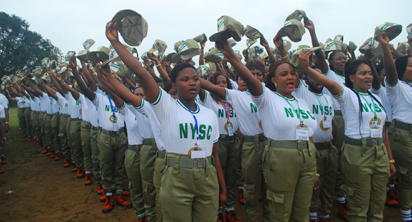 He said "If you leave the camp you conduct yourselves very well in your host communities. We are corps members, not politicians. Don't go and join politics. You are not supposed to join any political group.
https://www.vanguardngr.com/2018/09/i-will-support-any-aspirant-that-wins-pdp-presidential-ticket-sen-mark/
"Our duty with the Independent National Electoral Commission (INEC) is to help them conduct elections. If you conduct election, can you also be a politician?" he said.
He warned them to avoid making unnecessary travels, adding that they should obtain permission if the travel was unavoidable.
He urged them to endear themselves to their host communities by living a good life as well as engaging in community development services.
In Jigawa, Kazaure gave a similar warning on the sideline of an inspection Tour/ Skills Acquisition and Entrepreneur Lecture for youth corps members at the Yakubu Gowon NYSC Camp in Dutse.
Represented by Alhaji Habibu Kurawa, Director, General Services, NYSC, he warned them not to be partisan but abide by the rules and ethics of the NYSC scheme.
"NYSC is not a political or a religious organisation, but it is an organ meant for service to the nation and humanity,'' he said.
Earlier, Mrs Fransesca Ifon, NYSC Coordinator, Abia told Kazaure that the corps members had conducted themselves in disciplined and patriotic manners.
She said that a total of 2006 corps members consisting of 1023 males and 983 females were registered for the exercise in Abia.
According to her, instant relocation was granted to 73 and 13 corps members on marital and health grounds respectively.
The News Agency of Nigeria (NAN) reports that the DG inspected the camp facilities and expressed satisfaction over its sanitation.
However, Alhaji Ibrahim Muhammad, State Coordinator, NYSC, Jigawa, in his remark decried poor electricity supply in the camp and appealed for a stand-by generator.
Muhammad also appealed for construction of more hostel accommodation and provision of drainage in the camp.