The Buhari Campaign Organisation and Empowerment (BCO) in Bayelsa says plan is underway to embark on ward-to-ward mobilisation for the Presidential Candidate of the All Progressives Congress (APC), Muhammadu Buhari, ahead of the 2019 general elections.
Mr Ezekiel Ogbianko, Bayelsa Liaison Officer of BCO, said on Tuesday in Yenagoa that over 20, 000 committed persons have so far been registered as members to promote the good governance of the APC led administration.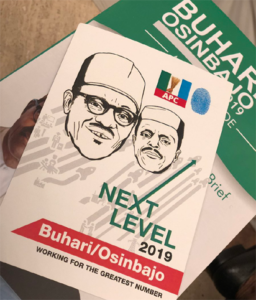 On the inauguration of the Rivers-Bayelsa Liaison Office of BCO on Nov. 14, in Port Harcourt, Ogbianko said the event was a welcome development and called for more support for President Buhari.
Ogbianko, who is also the Chairman, Rice Farmers Association of Nigeria (RIFAN) in Bayelsa, said the support for Buhari was necessary due to his numerous achievements not only in the area of agriculture but in all sectors.
"The Anchor Borrower Programme is one of them and every farmer across the country has benefitted from it; we must support President Buhari to finish his good work.
"The BCO in Bayelsa is committed and we are going to embark on ward-to-ward mobilisation to preach the gospel of Buhari, the APC Presidential Candidate for 2019 elections.
"We have found it necessary that it is good to allow the present government to complete what they have started.
"Especially in the fight against corruption, infrastructure development, youth empowerment and job creation through agriculture, among others.
"What we want in this county is only good governance and not looters; we need sustainable development in all sectors for the good of the nation. It is high time we stop the primitive methods of election of violence and killings.
According to him, politicians must play by the rules of the game and must know that the country, Nigeria has come of age.
"We must say no to political violence, tribalism and selfish interest which remain the primitive ways of politics.
He, however, advised the youth to desist from thuggery by not allowing themselves to be used as instruments of disorder during and after elections.
"We must learn how to support peaceful campaign and elections,'' Ogbianko stressed. (NAN)
https://www.vanguardngr.com/2018/11/bayelsa-apc-pdp-locked-in-pre-campaigns-rehearsals/