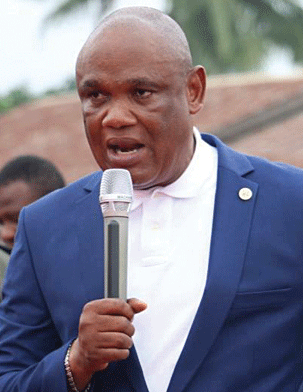 •Inyangeyen
By Emmanuel Aziken
Akwa Ibom State Commissioner for Works, Mr. Ephraim Inyangeyen, speaks on the strides of the Udom Emmanuel administration in road and urban renewal. He particularly sheds light on how compensation issues allegedly left outstanding by the previous administration among other issues delayed the Uyo-Ikot Ekpene Road project.
Excerpts:
Cost of road construction, particularly, in Akwa Ibom State in the last administration was said to be more than any other state. What have you done to address this perception?
I have no fear of contradiction. What Governor Udom Emmanuel did was to create a cap on the cost of a kilometre of road. He never allowed it to be more than USD1 million. At a stage, he brought it down to N320 million.
Those who complain we borrow too much should tell us where to find funds – Fashola bombs critics
If it's roads in the rural areas, he will bring it further down. I think in southern Nigeria, we have the best roads in terms of quality and price. It's been brought drastically down. Road construction is in segments. There's what we call Bill 1, it constitutes compensation, relocation of electric poles, planting of the electric poles, Bill 2 includes clearing of the place, getting the place ready while drainage works and others is in Bill 3. Bill 4 is the actual finishing of the road while Bill 5 is the bridge. Between Bill 2 and 5 is exclusively for the contractor.
What used to balloon our road construction bills used to be Bill 1 that was managed by the Ministry of Works and Governor Emmanuel has drastically cut it down. If Bill 1 is crashed, that means the construction cost is crashed.
This governor has done that. You may hear stories in Akwa Ibom of how the governor isn't paying compensation. He's paying compensation, but he pays compensation within the limit of what the compensation ought to be and to the rightful owner.
Is it true that most of what you have done is to finish what the previous administration started?
That's absolute falsehood. Let's run through it. The last administration didn't not do any road in Eket senatorial district except Etebi Bridge. The two interventions in road construction in Oron were carried out by the Udom Emmanuel administration.
Why Gov Emmanuel prefers minor projects, by Works Commissioner
The Etinan to Eket Road was on paper. No work had started. They didn't do any work. If any money was paid I don't know where it went to. It's this government that started Eket-Etinan Road from the scratch. From Okopedi to Uya Oron, Governor Udom Emmanuel initiated it. So if you come to Uyo and you look at the massive intervention in road construction, Believers Assembly- all the roads that are being done around that church, it was not the previous administration that did them.
The former Deputy Governor, Engr. Chris Ekpenyong sent an SOS that there was no road done by the previous administration in Obot Akara.
The road from Ini to Arochukwu which is 15 kilometres was initiated and completed by Udom Emmanuel.
The only roads we inherited were just about two roads, Uyo-Ikot Ekpene Road, which was taken to 15 kilometres and a first phase of asphalt was laid. The real cost, this government bore it.
At kilometer 15, there was a three-storey building with N280 million compensation demand on it, this government brought it down to N141 million and took down the building and has taken that road to the completion level. Uyo-Ikot Ekpene was badly handled. How do you design that kind of road without drainage? The major part of that road is flooded.
Only 40 per cent of that road was done by the previous administration. The rest has been done by this government. The other one was Ikot Ekara-Ibesit Okpokoro-a road that ought to have long been completed, it was not completed, this government took it at where they had done one kilometer and when the contractor did not do well, we terminated it.
My wife comes from there, so I am an indigene in Ibesit Okpokoro. I am not speaking as a stranger. The construction of that road was supposed to last for 18 months. It lasted more than three years. It was awarded in 2012. We came in 2015, the contractor was still there. So, something   was wrong.
Like Eket-Ibeno Road, Exxon Mobil said they brought N8 billion. This government did not see that money. The governor raised money from the bank to execute that road. That was why when Exxon Mobil wanted to participate in the ceremony of the commissioning of that road, I did not allow them because we did not see their N8 billion.
That is the honest truth. That is why you can see me drive to those projects and stop and nobody will raise any alarm.
What are the hindrances that you have with communities and owners of structures in executing the road infrastructure in the state?
I will give you an instance, the compensation that was said to have been paid on Uyo-Ikot Ekpene Road was badly done. We had close to 1000 cases in court on that road alone. The genuine property owners did not get the compensation. That was a big challenge for us. It set us back for a season. We needed to get people to leave the courts by negotiation and then we started paying them to get the job done.
Where are you at now concerning the matter with the NDDC?
They have slowed down because we have two challenges. One is that if you are doing road for us, let us know so that there is no conflict. We are the landlord. All the roads belong to the government. The governor supervises it. If you have 100 roads you want to do for us, give us the list, we surrender those to you and we can do the others.
Number Two and very critical was poor quality roads. These roads are quoted at the value of quality roads and sub-standard roads were done. We refused because it will be recorded against our state that such were done at such exorbitant amount and it did not reflect the quality of job done. That affected them and the NDDC does not really have a presence in the state anymore.