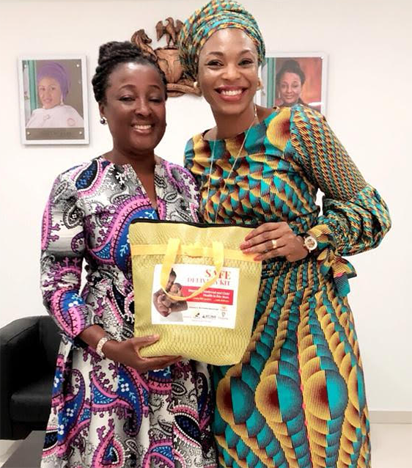 Mrs Betsy Obaseki, the first lady Edo State and Mrs Anehita Ojezua Emeya, Founder & CEO of ZELUA Wellness Foundation
Mrs Anehita Ojezua Emeya, Founder & CEO of ZELUA Wellness Foundation in an effort to improve maternal, newborn and child health, puts smiles on the faces of expectant mothers and their families by providing over 1,000 Free Safe Delivery Kits to pregnant women in designated health centers in Edo State

Her Excellency, Mrs Betsy Obaseki, the first lady and wife of the Governor of Edo State has also passionately adopted this program and partnered with ZELUA to take this intervention initiative to a larger scale alongside her ongoing program focused on preserving the lives of neonates.
Studies have shown that 23% of child maternal mortality in Nigeria are caused by infection. The Free Safe Delivery Kit contains necessary medical, personal and after birth care items necessary to provide a clean, safe and hygienic delivery for mother and child.
According to Mrs Anehita Ojezua Emeya, this intervention is geared towards preserving lives and forestalling incidents of deaths arising from avoidable causes such as infection, unavailability of basic delivery supplies due to poverty etc. She added that these women do not have to die in the normal life process of procreation.
She sends her heartfelt appreciation to the corporate sponsors; Zelua Nigeria, Guinness Nigeria, Starzs Investments Company Limited and to all who supported in various ways to ensure the goal of this laudable initiative is realized. We believe every life counts, together we can help touch and save lives.
https://newlive.vanguardngr.com/2018/10/obaseki-counts-gains-of-edo-innovation-hub-as-world-marks-devt-information-day/