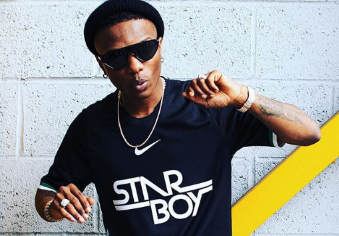 Wizkid
…His strides, his women and his music
By Benjamin Njoku
Wizkid born Ayodeji Ibrahim Balogun is indeed an enigma. When he began his music career in 2010, with the release of his début album 'Superstar', which featured hit songs like 'Holla at your Boy', "Love My Baby", "Pakurumo" and "Oluwa Lo Ni", little did he know that he was definitely on a journey to redefine the contemporary African music.
And today, Wizkid has not only influenced the world with his kind of music, but also, he has set a new record for himself as a leading Afro pop star. He's one of the most talented and sought-after artistes ever to come out of Africa.
With age and time on his side, it can only be said that the superstar is yet to give his best, which he agreed when he said at the 2016 HEADIES awards, that 'the world is yet to see the best of me.' The superstar is not relenting on this promise, as even his latest offerings have a lot to say about his ambition.
Isoko in diaspora, IDU women wing donate relief materials to flood victims
Like Davido, who is close rival, Wizkid since debuting with 'Superstar', followed by his second studio album, "Ayo" released in 2014, and was preceded by six singles: "Jaiye Jaiye" "On Top Your Matter", "One Question", "Joy", "Bombay", "Show You the Money", has maintained an enviable position and influence in the world music scene.
His featuring on Canadian rapper, Drake's 'One Dance' that earned him a spot in the Guinness Book of World Records marked a turning point in his career. It opened the door for his success outside the shores Africa and made him a Sony Records priority. But many argued that the 'Ojuelegba' crooner would have still hit the international scene even without the patronage of Drake.
At the time, he left Banky W's EME, to float his own label Starboy Entertainment, Wizkid undoubtedly set his mind on conquering the world with his music. And when the opportunity presented itself, he didn't disappoint. He has remained consistent as one of the most viable and utility music stars in Africa that are steadily expanding their frontiers into the European and American music scenes. Apart from collaborating with Drake, Wizkid also has collaborated with other international stars such as Ty$, Wale, Chris Brown, and Akon. He is towing the path of successful hip-hop acts around the globe.
Obi, others to be honoured by Greg Univeristy
His performing and dancing alongside the American RnB singer when the latter came
to Lagos for a show was all he needed to break into the international music scene. And reports said, a few months after their chance meeting, the duo were spotting hanging out in Los Angeles. This was before he released 'Ojuelegba.' He didn't let that chance meeting end at a few words, a handshake and a selfie. It went beyond that and today, Wizkid can tell better.
Wizkid's creativity is inimitable. His originality and message have continued to endear him to many fans across the globe. The singer's smash hit ' 'Ojuelegba' off his second album, 'Ayo', remains evergreen.
Davido's hit "Fans Mi" cover gets singer, Doxy a U.S collaboration
The song, a mid tempo ode to the Lagos slum where the singer grew up was listed in Rolling Stone's 15 great albums you didn't hear in 2014. While not as anthemic as some of his previous records , 'Ójuelegba' enjoyed global appeal, as many hold the opinion that the song was one of Wizkid's greatest ever. But his latest single, "Fever", featuring Tiwa Savage as a video vixen is proving them wrong.
The video, which was released to rave reviews, during the week set social media agog, as it generated well over 70,000 views in less than four hours of its release.
The video sees a shirtless Wizkid in bed singing as a scantily dressed Tiwa Savage romances him and they strike the poses of two lovers. This has since sparked a lot of debate online as to whether the two are actually in a romantic relationship, or not, which is not the focus of this piece.
But beyond this, Wizkid has remained outstanding in his career though pundits tend to make comparisons to fellow hit-maker, Davido who's also a success in his own rights. But most times, he gets the upper hand because of the accolades he has enjoyed on the international scene. From the time he released his debut album, 'Superstar', which was three years after he secured his first record deal, Wizkid was not thinking of slowing down the tempo. In fact, he has continued in that speed, overtaking other superstars who have been there before him.
Mention his name on the international scene, and you're sure to get thrilling comments on the wit and talent of the Starboy. But whatever you think of Wizkid, he's still one of the biggest stars to come out of Africa.
The singer holds the record of being the first African singer to headline a sold-out show in London. The show, which was broadcast live on Wizkid's Facebook page featured British act Yxng Bane, Wande Coal among others. It's success still resonates in the UK music scene.
Wizkid ranks among the ten richest musicians in Nigeria. In 2018, his fortune is estimated at $14 million. In addition to earnings due to his main activity, Wizkid also has the income from advertising contracts. Unknown to many that the Starboy, as he's fondly called by his fans did not only storm the international scene as an entertainer from Nigeria but also, one with interests in the entire package, including merchandising, modelling and endorsements. American sportswear company, Nike reportedly entered a five year deal with the Nigerian Football Federation to the tune of $3.75 million (N743 million) to kit the country's football teams.
The singer also contacted for the Dolce & Gabbana Summer 2019 Fashion show in Milan. He joined Boris Becker's son, Elias Becker, Nash Grier and Cameron Dallas for the exotic fashion show. Spotting an ostentatious clothing and a mask, Wizkid ended the men's category walking down the runway in company of globally-acclaimed model, Naomi Campbell spotting a pin-striped suit and fedora.
Wizkid's participation at the show in Milan saw D&G coughing out at least $20,000 for the Starboy.
Meanwhile, despite these landmark achievements, Wizkid is a symbol for gossips and rumours on social media even more often than other celebrities in the country. The singer gets into a mess, once in a while, and most times, it has to do with the women around him. As the father of three lovely boys from three different mothers, and a big celebrity for that matter, one can't expect loose talks and attention seeking among the many women around him. But in spite of this, Wizkid is about the finest and one of Africa's greatest exports in pop music in recent times. His rivalry with Davido, is believed has brought the best out of the nation's music scene, causing great hits and great performances to happen in the African music scene.