By Josephine Agbonkhese
In 2001 when a group of individuals co-founded the Women in Management, Business and Public Service, WIMBIZ, a nonprofit organisation with focus on women's protection and development in public and corporate entities through regular training and networking, many certainly presumed it would be just another jamboree platform for cheap talk and no visible results.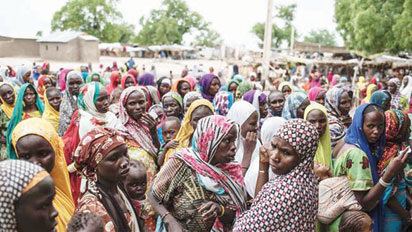 But 17 years down the line, WIMBIZ has proven itself to be an entity that is not only purpose-driven but result-oriented. Thanks to its founders: Yewande Zaccheaus, Morin Desalu, Omobola Johnson, the former minister of communication and a male, Chidi Okonjo, who conceptualized it. Including founding members like Ibukun Awosika, Adeola Azeez, Funmi Roberts, Faith Matthews, Mairo Bashir, Toyin Olawoye, Ifeyinwa Ighodalo and Ifeoma Idigbe.
With a vision to be the catalyst that elevates the status and influence of women and their contribution to nation building, and a mission to inspire and empower women to attain leadership positions in business, management and public service, WIMBIZ has, in no small measure, lived up to its mandate.
In the last 17 years, it has implemented programs such as its Annual Conference, Annual Lecture, Big Sister Program, Graduate Internship Program, WIMBIZ Capital, WIMBOARD, Winning Without Compromise, WIMPOL, Roundtable Lunches, and CEO/Policy Maker Interactive Series that doggedly inspire, empower and advocate for greater representation of women in leadership positions in the public and private sector.
Result-oriented programmes
Attracting over 1,000 women from diverse areas of the corporate, business and public sectors, this event has earned its place in the hearts of leading women in business and careers who are seeking opportunities for personal and professional growth. Themed 'Unstoppable You! Reinvent and Reinvigorate', its 2018 edition is billed to hold in Lagos from 1st-2nd of November.
Ogun board generates N1bn in 8 months
Its Annual Lecture designed to discuss topical issues that affect women, their role in nation building and their personal, business or organizational development, attracts over 700 women every year. Introduced in 2016, its Big Sister Program (BSP) also, is designed to provide, equip and empower young girls in public secondary schools with life skills. As at 2016, about 3,000 girls across three states of the federation; Lagos, Niger and Rivers states, had benefitted from the program.
WIMBoard (Nigerian Women on Board) which was launched in 2012, on its part, works to increase the representation of women on boards by promoting boardroom diversity. WIMBoard  trains, mentors, operates a database of women who are interested, competent and qualified to serve on boards of corporate bodies, and also engages in advocacy.
WIMPOL (Women in Politics) meanwhile, was introduced at the 2014 Annual Conference to address the low representation of women in politics. According to data from the organization, in collaboration with credible domestic and international global organizations, it has delivered programs which have influenced over 93,825 women in Nigeria since inception.
From WIMBIZ to public service
Most remarkable about WIMBIZ is that it heavily underscores the place of training and preparation for placement and efficiency in key offices in both private and public service. The array of its stanch members who now hold key public offices attest to this.
We've spent over N50m on flooded communities, IDPs —Bayelsa dep gov
Current Deputy Governor (Economic Policy), Central Bank of Nigeria, CBN, Aishah Ahmad, for example, as at 2016, was the Head, Consumer Banking Division at Diamond Bank while also serving as Chairman, Executive Council, WIMBIZ, having been a long-serving member of the organization. By October 2017, she had been appointment Deputy Governor at the CBN
"The founding trustees at WIMBIZ have been a positive influence in their many accomplishments across private and public sector. At every turn, they have distinguished themselves as women of repute and deep impact including founding WIMBIZ as their contribution to advancing the cause of women everywhere," Ahmad once said in an interview while reeling out personalities who had influenced her life and growth.
Hadiza Bala Usman, Managing Director, Nigerian Ports Authority, also a long-serving and top member of WIMBIZ, is another.
Senior Special Assistant to the President on Industry, Trade and Investment, Jumoke Oduwole, is yet another. Formerly a lecturer at the Faculty of Law in the University of Lagos where she also doubled as a member of the senate committee and as a researcher, her curriculum vitae indicates that Oduwole participated regularly in the organisation's conferences and lectures.
Kemi Ogunyemi, current Commissioner, Lagos State Health Service Commission, is another beneficiary of its strategic grooming. Ogunyemi had joined the organisation shortly after relocating to Nigeria from the United Kingdom where she last served as a lead nurse clinician/lead chemotherapy nurse, Hematology/Oncology Outpatients Department at the Royal Free Hospital, London.