Wife of the Rivers State Governor, Justice Eberechi Suzzette Nyesom-Wike has called on Nigerians from different ethnic backgrounds to bring their best to the Nigerian table to foster growth.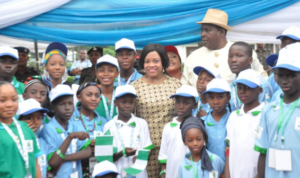 Speaking during a reception for children participants at the National Festival of Arts and Culture (NAFEST 2018) at the Government House Port Harcourt on Friday, Justice Eberechi Suzzette Nyesom-Wike said that such diverse contributions will quicken national development.
She said: "All of us should look after each other and also look out for each other.
"We should bring to the Nigerian table, our best to develop Nigeria".
She stated that the diversity of Nigeria should serve as a source of strength and national development.
The Rivers Governor's Wife noted that the nation would be uninteresting and boring if everyone was the same.
"It would be very boring and uninteresting if everyone is the same. We should find strength in our differences", she said.
https://www.vanguardngr.com/2018/10/breaking-s-court-nullifies-order-permitting-apc-to-conduct-primaries-in-rivers/
She described Rivers State as a mini-Nigeria with several ethnic groups. She pointed out that despite the diversity of the state, Rivers people still unite to develop the state.
Also speaking at the reception, Director General of the National Council for Arts and Culture, Otunba Segun Runsewe stated that children from states of the Federation appreciate the Wife of the Rivers State Governor for her magnanimity and motherly love.
He said that seeds of love and friendship being sowed by the wife of the Rivers State Governor in the lives of Nigerian children will yield positive fruits in the nearest future.
The Director General of National Council for Arts and Culture said if more Nigerian leaders invest in children, there would be less crime in future.
Runsewe presented an award of appreciation to the Wife of the Rivers State Governor on behalf of children participants at NAFEST 2018.
Children participants from Benue, Ondo and Rivers State displayed cultural dances to the admiration of guests.
The winner of the Children's Essay Writing competition of NAFEST 2018 made a special presentation at the reception.
https://www.vanguardngr.com/2018/10/wike-approves-immediate-construction-of-fruit-and-vegetables-market/