Managing Director, Diamond Bank Plc, Uzoma Dozie, in this interview addresses current challenges in the banking industry, and how they are responding to them and sundry issues
By Emeka Anaeto, Business Editor
WE are close to 2020 and financial sector strategy has 80% inclusion target and I feel the industry is looking towards getting more people in through digital banking, what is the expectation on meeting the target?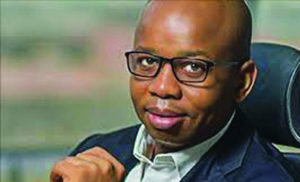 We are not where we want to be as a nation and unfortunately we have all the ingredients to cook a great stew but everything have to come together. It is not about financial inclusion but identity inclusion. Identity inclusion is what we need in Nigeria.
Identity inclusion means that if I reach you or you want to make transaction, I can verify your identity.
In Nigeria today, we have passport, voters card, BVN, drivers license and the likes, about seven identity platforms. But we have in the banking industry, 35million biometric verified people and that is probably one of the most accurate form of identity because with passport not many people will travel so you don't need a passport, not many people drive.
So we have BVN and for us inclusion can only grow in a right environment and that is our aim, if I know who you are, it doesn't matter where you live as long as I can locate you with your verified identity.
Mobile drive society
Twenty years ago, if you are going for the weekend, you will carry like 50,000 because you know that the banks will not open and there won't be ATM there. But today, I can use my mobile phone, I can do a cardless transaction.
We are more advanced because we are kind of a mobile driven society and not a card driven society so if I ask you how many transactions did you do yesterday, you might probably say 10 and most of them were mobile and that is the most cost effective platform. So it just required the right leadership and stakeholders to come together.
Assuming that BVN is the most credible identity platform, at 35 million it is still very low compared to the total population. What is the banks doing to make adequate coverage of the population against the 2020 financial inclusion target
We are rolling out bank agency network that the banks have funded and this is taking banking to the people and this year I think the first target is 250,000 and should I say a very structured roll out with existing mobile money players in these areas. The banks have come together under SANEF and the whole idea of SANEF is to roll out the agency banking platform so that anybody can do service for all the banks.
These things can change tomorrow. If today, government comes out and say any transaction above N100,000 have to be electronic,  you will see what will happen. Immediately people will start having biometric identity, people will start opening accounts.  If you drop it down to 50,000, you will see people start rushing in and more when you drop to N10,000.
The reason why people have account in the UK is that you can't be carrying cash, it is too expensive, only drug dealers do that or people who want to evade tax. The only reason for carry cash is because you want to reduce your tax liability, you are doing things that you cannot declare.
With the apprehension for election, a lot of portfolio investors are leaving the country, what should be the positioning of the banking industry?
For us, it is not a doom and gloom. First of all if you have a good governance structure which is what helps you, so at Diamond Bank we have a very strong board that is our strong backbone, we have great management structure.
Even during elections, people will eat food,  shirts for election campaign. That is why we are in the retail business and you will just invest wisely.
What we will do is tighten the risk criteria. Some areas where you will say that you want 20% contribution, you move to 30%.
In some other areas, you will have to reduce the interest rates because the interest rate becomes high the probability of defaulting becomes high.
You can advice your customers that you can't lend to them because it is not good for them.  It is like setting the dosage of a particular drugs and it will start killing the patience after some time, instead of helping them. That is what interest rate is. You have to be a responsible lender and that is what we try to be. 
How has your business been so far in 2018
I think for any organization especially financial institution, there are three key areas; there is liquidity, capital adequacy and profitability. What will kill you first is liquidity, it milks your capital and if you are not sustainable over a long time, it means that you cannot remain an on-going business.
What we have been doing for the last year is first of all ensure that we have a lot of liquidity by providing great products and services for our customers across all the segments that we play.
On the capital side, in line with our strategic positioning, we are focusing on the key market which is Nigeria, so  we sold off our  UK business, we sold off our West African business,   we have also pursued our  national license to ensure that we have enough capital  and shock absorber.
We are also consolidating our footprint in the retail market and we think that is where we are going to have benefits over the years with the investment in technology. We are looking at our location and saying, what is it that is actually happening and how can we modify them.
We are also looking at also the Head office. We are moving to a new head office which is purpose built and the key thing is that it is going to also enable us for the next five years period to reduce cost.
It is going to leverage technology, maintenance will be much lower because we are bringing everybody to one location.
On the top line, we are focusing on small businesses, key multinationals and business banking and the high end. It means that we are very selective when we lend, so that growth that we saw when we were in oil and gas   and big infrastructure won't be there anymore because we are banking on sustainable growth.
But what you don't see from the numbers is that,  the retail book have been generating a lot of income at very low cost, and what we don't also see is the transaction income  generated from the services that are provided through our alternative delivery  channels.
We should look at the things that are hidden behind the bottom line. We can see that the operating income is very strong, the customer base is growing and the liquidity is getting stronger  and we have a  plan which is  what I believe stakeholders are  interested in understanding.
Why a new head office building?
The first thing you should understand is that, that project started about four years ago.
Secondly, where the impact is in two areas of capital and cost. On the cost side,  we presently have one premises we own and two rented premises so we are in three rented locations, we are not in control of the cost, it means that anything can happen, the  landlord can wake up and say he needs these building. So with the new building, our long term cost will go down.
Capital perspective
From the capital perspective, we are consolidating. For us, physical asset are not key but the right type of asset are key to driving our business, we will invest in one building to ensure that we have the right resources to ensure that we can deliver our business to our customers.
With your divestment from international subsidiaries what is the state of your alliances with foreign businesses
Diamond bank is a platform and we are trying to provide beyond banking services to our customers. We are not just about banking. People spend a very short time of their day doing banking, so if you are going to be engaged and connected through your customer journey, it means you have to collaborate with other people who have expertise  in other areas.
You cannot financially include people by just opening a bank account. We must find a way for them to use it.
On a technology space we have to collaborate with MTN onDiamond Yellow because we don't have the reach that MTN has and we know that everybody has a mobile phone, so we have to partner with them to do that, that is why all the strategic alliances are important. We have alliances with people like Microsoft, Tech park and a host of others.
Recently the CBN hammer came on you for one such collaborations with MTN, how has that affect your relationship?
Our relationship with MTN is the one that is envied because our Diamond Yellow product is the collaboration we have with them and because of that we have gone very far in financial inclusion space and without that collaboration we would not have achieve the mileage we have now.
If you are referring to the recent issue between the Central Bank and MTN on capital importation, we have been collaborating with Central Bank to try and resolve the issue, it didn't impact on our goodwill in any way, our customers ask questions and we answered, we have been exchanging correspondences with the Government and they have also been exchanging correspondences with MTN, so we haven't felt or seen that there is a perception issue in that regard in any way.
Our most important stakeholders are our customers. If you take from the MTN side nobody has done a SIM swap to say we are going to another telco for this reason.
Secondly, on our Diamond Yellow, we have nine million people, and the people that worry about these thing only about a few thousands that reads them in the newspaper or portals. A guy on a street that we are transforming his life doesn't know or border about what is happening.
We know that for every organization, the bigger you are the more visible you are and the more you come into the raider of people. This is not just a Nigerian thing, it can happen elsewhere, it is the degree of events that matters.
The people on Diamond Yellow, they are happy using it because it adds value to their life. We have 50 million people that are using the MTN. So despite what has happened, they are still here, which express their commitment to the Nigerian population.
With about 270 branches nationwide and your expanding digital footprints, what is the strategy for on-boarding new customers?
When I started banking, a huge proportion branch business was over the counter transaction. But today that teller point keeps shrinking because less people are coming in there.
We are now redefining what is the branch for. So we are taking that teller services to the customer instead of them coming one kilometre to the bank, and that is where agency banking comes in.
Although physical branches might drop, footprint, access, closest to banking services would definitely be thriving. The ultimate is that, banking services is going to be on your mobile phone, which we are achieving now even without smart phones because USSD has taken off.
If you ask me, are my branches going to change? Yes!, what are they going to change to? I don't know, because I don't know what my customers will want. We build our services round customers.
With all the initiatives that have been put in place, why is it still difficult for small business to access funding?
I am very passionate about small businesses because they are the engine of growth in any economy. There is no economy in the world that is successful without the small businesses.
Central Bank has said, I will give you money at single digit, how come, no one is taking it? Because, beyond money, you must be in a state of readiness to borrow from anybody.
If my brother who is reckless comes here and says he wants to borrow for a business, I will not give him because I know him.
For our customers, we want to make sure we provide you advisory services and access to market. It is not all about finance or equity. If you want to expand your business, you can say, these are my numbers, my management and business plan, you can then go and borrow and the CBN will give you money.