The Association of Waste Managers of Nigeria (AWAM), otherwise known as `PSP', has commended the directive of the Lagos State House of Assembly asking them to resume refuse collection.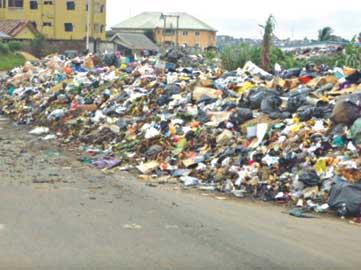 AWAM's spokesperson, Mr Olugbenga Adebola said in a statement on Friday in Lagos that the assembly had lived up to the expectation and yearnings of well-meaning Lagosians.
Adebola said that the association looked forward to sitting with the relevant authorities to discuss and workout the implementation of the resolution.
Buhari, Ambode, Tinubu for Island Club 75th anniversary
"'We welcome the resolution of the state House of Assembly on Thursday, Oct. 18, 2018.
"We want to appreciate the entire members of the State Assembly; they have all lived up to the expectation and the yearnings of all well meaning Lagosians.
"In particular, we will like to thank the Speaker, Mr Mudashiru Obasa, for his tenacity and consistency in speaking the truth always.
"We equally want to thank Hon. Gbolahan Yishawu (Eti-Osa Constituency 1) for listening to the general complaints by Lagosians on the current waste management regime in the state. History will not forget this heroic act," he said.
According to him, AWAM looks forward to the opening of Olusosun dumpsites immediately.
Adebola said that all other dumpsites should be revamped to improve the turnaround of PSP trucks.
According to him, PSP operators were denied access to all the Transfer Loading Stations (TLS) in the state for over two years now.
"Therefore, the resolution that all dumpsites and Transfer Loading Stations (TLSs) be opened to PSPs is in the right direction.
"This is because the disposal sites are the bedrock of any meaningful waste management system," the spokesman said.
Lagos State House of Assembly on Thursday directed local governments in the state to ask PSP operators in their areas to resume refuse collection with immediate effect.
The Speaker also ordered the Clerk of the House, Mr Azeez Sanni, to invite the Commissioner for Environment, Mr Babatunde Durosinmi-Etti, to appear before the House next week over the matter .
This followed a motion of Urgent Public Importance raised by Hon. Gbolahan Yishawu on heaps of refuse scattered all over the state.
Obasa said that the three arms of Lagos State Government was not aware of Visionscape operation.
"We insist that we don't know anything about Visionscape because we were not consulted before they started work," the speaker said.
NAN
Subscribe for latest Videos