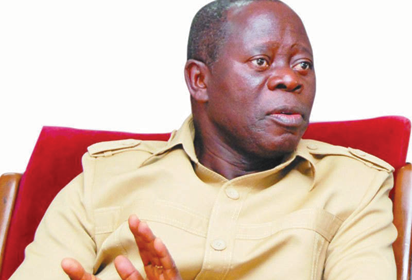 APC National Chairman, Adams Oshiomhole
…APC Primaries: Oyegun, now vindicated,
By Omeiza Ajayi
ABUJA – A chieftain of the All Progressives Congress APC in Enugu state and Director General, Voice of Nigeria VON, Osita Okechukwu has accused the National Chairman of the party, Comrade Adams Oshiomhole of raising a tribal army in the party to serve some pecuniary interests.

This was as he disclosed that by Oshiomhole's current actions and inactions, the immediate past National Chairman of the party, Chief John Odigie-Oyegun has now been vindicated, even though at great cost to the ruling party.
"Methinks, Comrade Oshiomhole came with a wrong mindset, kind of ITK – I Too Know. Hear him – "I think that I can say comfortably that about 90 per cent of APC members are happy, it is not possible to have 100 per cent." Fake News for the silent aggrieved majority.
Secondly, everything his predecessor, Chief John Odigie Oyegun did is evil and he is saint. Oshiomhole better goes home to settle with his brother, before we pay for the sin we never committed. Thank God that Oyegun has been vindicated, though at great cost to APC", he said.
In a statement issued Tuesday, Okechukwu said; "there is no natural justice, equity and fair play when Comrade Oshiomhole populated or rather corrupted the primary with his Edo Field Commanders".
According to him, Oshiomhole appointed Prof. Oserienhmen Osunbor as Chairman, National Appeals Panel having also appointed him as Chairman of the Primaries Committee for Kebbi state.
Other appointees from Edo state according to the VON DG were Chief David Iyioha who headed the committee in Abia; Sen. Domingo Obende for Ebonyi; Prof. Moses Momoh, Enugu and Lucky Imasuen, Niger. Also allegedly appointed from Edo state were Dr Pius Odubu, Kano; Chief Matthew Iduyehue, Kaduna as well as Hon. Abbas Braimah, Akwa Ibom "and uncountable Edo members of Gubernatorial, Senate, House of Representatives and House of Assembly Panels".
Speaking further, Okechukwu said; "Comrade Chair, kindly note that the Federal Character principle as enunciated in the 1999 Constitution of the Federal Republic of Nigeria, the Constitution of the APC and extant laws, frown at nepotism and food is ready for his cronies. One is of the considered opinion that each state is entitled to one head of the Panel, if pecuniary consideration is not fingered paramount.
"It is my candid view that each state and Federal Capital Territory have eminent persons to head one panel each, instead of fanning out kindred and cronies as if it were bazaar handouts.
"Accordingly, without being immodest, one challenges Comrade, outside pontification and self denial, in the tradition of the anti-graft war of President Muhammadu Buhari, to set up a public inquiry to investigate the Phone Call-Log and possibly accounts of all the Panelists and Comrade's Aides and associates. Those who petitioned Comrade for alleged corruption seem vindicated.
"Human memory the sages say is short, therefore permit me to remind Comrade Adams Oshiomhole the admonition he made in July this year that if Mr President condones disrespect to his office, he will not condone disrespect to the party.
"In October after he messed up APC's primary he issued a statement via his Chief Press Secretary, Simon Ebegbulum, in a futile attempt to fence off the barrage of attacks which trailed the controversial primary, to the effect that the crime his leadership committed is its disdain for impunity and circumvention of due process perpetrated in some states at the pleasure of some influential stakeholders.
"May I ask Comrade Oshiohmole what is impunity and circumvention of due process and disrespect to our great party, more than authoritarianism? Or did he abide by the fine tenets of democracy in the conduct and supervision of the primaries? Were there natural justice, equity and level playing field? No as exemplified below:-
"For instance, can Comrade in all honesty publicly tell Nigerians why he stopped Enugu State gubernatorial primary mid-way after seamless conclusion of 4 out of 17 LGAs without genuine reason? I was one of those he spoke to and we assured him all is well. Or the unilateral reversal of InDirect Primary Mode of election chosen by Enugu State to Direct Primary, without proper resort to the National Working Committee which approved the Indirect Primary for Enugu State?
"Can Comrade Oshiomhole as a matter of urgent national importance clear the air on the culture of impunity and misadventure he demonstrated in Imo State by handing over the APC to a friendly family? One challenges Comrade Oshiomhole in all clear conscience to tell the world how APC can win Imo State in 2019 in the cliffhanger he wittingly or unwittingly railroaded our great party?
"In sum, let's thank Almighty God that our dear president is above the fray, as all the contending tendencies will vote for Mr President. The substitution window should be utilised by the APC Leadership to amend some of the vote-death-traps regrettably laid by Comrade Oshiomhole and his gang", he declared.