The Movement for the Actualisation of Sovereign State of Biafra (MASSOB), has urged Igbos to disregard the call for boycott of election by Nnamdi Kanu describing it as `unrealistic'.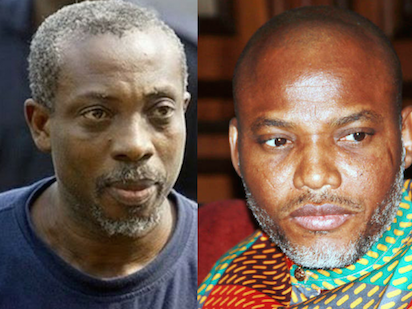 The Leader of MASSOB, Chief Ralph Uwazuruike gave the warning in an interview with the News Agency of Nigeria (NAN) in Owerri on Monday.
Uwazurike said such call was laughable because he did not have control of election in Nigeria, pointing out that his intention was to incite his members into a venture that could lead to death of innocent Igbo's again.
Grant Nnamdi Kanu, other Biafra agitators Presidential pardon, Ohanaeze Youths urge Buhari
According to the MASSOB leader, Nnamdi Kanu is not worth dying for.
NAN reports that the leader of Indigenous People of Biafra (IPOB), Nnamdi Kanu who recently resurfaced in Israel announced on Sunday in a broadcast that there would be no election in South-East in 2019.
He also said he would return soon to Nigeria to revive the agitation for Biafra independence.
His whereabouts had been unknown since July when the military launched Operation Python Dance to check activities of IPOB.
But Uwazuruike, in a swift reaction, said Nnamdi Kanu was not worth dying for because he was not fighting for the interest of the people.
"No election, no census, referendum and sit-at home were among MASSOB major agenda in 2004 which we latter dropped because we discovered that it cannot be realised and it will affect our people most.
"Nnamdi Kanu, out of ignorant, called for boycott of Anambra election last year and the election held, now that he is calling for another boycott, how does he want to achieve that," he said.
He alleged that Kanu was recruited to destabilise activities of MASSOB, adding that why he resurfaced again was to use the IPOB's platform to make money for his selfish gain.
"A lot of his members were killed last year and he left them and ran away, a real freedom fighter does not fear for death rather he donates his life for the struggle.
"He should be disregarded because all his activities from his arrest to his release and finally his travel to Israel were stage-managed so "he is fake", he said.
According to Uwazuruike, without the vote of South-East, a president can emerge in Nigeria, arguing that it will make no meaning for the South-East to boycott 2019 election.
Uwazuruike challenged Kanu to explain how he traveled to Israel after his international passport was seized by the Federal Government before his release.
Nigerians want to know who took him to the airport and how he was checked in without his passport if it was not stage-managed," he said.
NAN