By Ephraim Oseji
The Founder/CEO of The Centre For Values In Leadership (CVL), Professor Pat Utomi, is expected to deliver the keynote address at  the  launch of the book, titled, 'Federalism, Leadership and Development', written by Samuel  A. Orovwuje.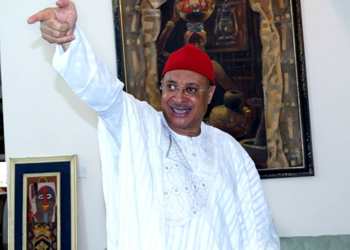 President-General of Urhobo Progress Union (UPU), Olorogun Moses Taiga is the Chairman of the book launch holding on Thursday, October 25 at the Nigerian  Institute of International Affairs (NIIA), Victoria-Island, Lagos.
The statement explained that the book  is a collection of  essays by  Orovwuje published  in newspapers and journals, addressing the themes of leadership, sustainable human development and development paradigms.
Breaking: Legislative aides protest over unpaid allowances
It disclosed that the book covers topics as diverse as the crisis of leadership in Africa, leadership models, economic philosophy, poverty, migration, displaced persons, fiscal federalism and national structural deficiencies, especially in Nigeria.
"The book, "Federalism, Leadership and Development" address the critical tripod that is lacking in Nigeria, nay Africa. Thematically, it shows how the destruction of federalism creates room for cannibalistic politics and stultifies creativity and responsibility in the management of public resources in Nigeria," the statement revealed.
PDP condemns Buhari over remarks on Osun poll
The Publisher of the book, Sam Orovwoje explained that the ideal paradigm for developing diverse societies is the federalist principle and practice that acknowledges the diversity in culture and resource-endowment and creates room for healthy competition among the constituent cultures.