The only way APC can win in Delta state
Speaks on Uduaghan, Kachikwu, Ogboru, Emerhor
By Emma Amaize, Regional Editor, South-South
FORMER  All Progressives Congress, APC, presidential aspirant, Alhaji Mumakai Unagha, has expressed uncertainty about the party winning the 2019 Presidential Election, saying that it was broken into factions in almost all the 36 states, including the Federal Capital Territory, FCT, and facing serious challenges under the National Chairman of the party, Comrade Adams Oshiomhole.
"I am worried if the party can still win in the midst of the problems we have under Comrade Adams Oshiomhole. He has to resign for the party to clinch victory in the forthcoming election," the Delta-born APC chieftain declared in an interview with Vanguard.
On why he and other ex-presidential aspirants were insisting on Oshiomhole's resignation, Unagha said: "We are not against Oshiomhole as a person but his principles and policies. His principle and policies are not fashionable to APC, hence we are against him. "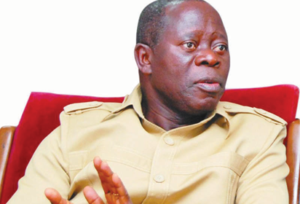 "If the First Lady of the Federal Republic of Nigeria can no longer tolerate excesses of the party chairman, I wonder how he can deliver the party come 2019. His first and remarkable mistake when he assumed office was the creation of a parallel division in Delta State by inaugurating a factional leadership led by Prophet Jones Erue.
"He did so in most of the states across the federation. Today, the party is divided into factions in almost the thirty six states and the Federal Capital Territory. He could not manage the crisis leading to the exit of Governors, Senators, House of Representatives members, etc," the former presidential aspirant asserted.
No presidential primary by APC
Speaking on why the Coalition of APC Presidential Aspirants refused to accept defeat by President Buhari in the party's primary, he said: "Accept defeat gallantly is an understatement. Did the APC hold presidential primary election? Where was it held and who presided? Who were the Independent National Electoral, INEC, Officers that supervised it in all the wards across the country?"
"These and many other questions are begging for answers. It was all a show of shame. I sent my aides round the entire country to monitor the so- called presidential primary election; it did not hold. Rather, some miscreants were busy compiling figures using old register of the party.
"While the so called presidential primary election was on, the President was in far away US busy attending summit.   I can only accept defeat if there was free and fair contest, I can accept defeat if APC in its true sense of promoting the rule allows a level playing field," he said.
https://www.vanguardngr.com/2018/10/2019-sing-foundation-takes-voteamust-campaigns-to-niger-delta/
Oshiomhole scared of our growing popularity
On his recent congratulatory message to Buhari over his emergence as the party's presidential flag bearer, he said: "Yes, I congratulated Mr. President because of the interest of the party. The party is supreme. I want to place it on record that neither myself nor Dr. SKC Ogbonnia and Chief Charles Udoagaranya, who are all members of the Coalition of 2019 APC presidential aspirants has anything against Mr. President."
"Our agitation is based on principles. How can a chairman of a party unilaterally increase hike nomination fees to unbearable and unacceptable reach just because he was afraid of some aspirants? The chairman was worried of our growing popularity. They are afraid that we are going to give Mr. President a tough fight, hence all the maneuvering to prevent us from contesting.
The problem with Delta APC
Commenting on the crisis that has torn APC apart in Delta, he said: "It is very unfortunate. Unfortunate in the sense that some persons, who are not genuinely members of the party, are making it unbearable, they pretend they are APC members, but they are not. I prayed that the crisis should not affect the fortune (chances) of the party in the state come 2019."
"All these are traceable to the National Chairman of the party who, after assuming, office swore in a factional chairman. The chairman did not behave as father of the party. He is not thinking how the party can retain power, his first pre-occupation was to punish perceived enemies within the party by creating a factional leadership.
"Look at Delta, Rivers, Akwa Ibom, Imo, Kaduna etc. That's why I said the National Chairman lacks the principles to lead a ruling party. He has not been able to articulate a coherent agenda or clear manifesto for upcoming election; he has succeeded in creating a level of acrimonious divisions never witnessed in Nigeria political history," Unagha added.
Hijack
He said: "I did not attend the Prophet Jones Erue- led primary election conducted or supervised by him in Delta state.   However, I learnt that guns were fired with tear gas when aspirants protested delegates' list purportedly sent from Abuja. I did not attend because I knew it was all going to be a sham."
"Before the primary election, there were boastful allusion that the committee sent by the National secretariat of the party were already bought over by Chief   Great Ogboru/Ovie Omo- Agege faction, that they were given instruction to deliver Chief Great Ogboru. The second reason I refused to attend was the failure of the party to harmonize the two factions.
"Like I said before the primary, Ogboru/Omo-Agege faction was jubilating that the party structure had been handed over to them so I did not imagine myself attending such primaries.
Sleepless night
"If Adams Oshiomhole is not having sleepless nights over Delta state simply because he is not from the state, I am having sleepless nights because I am from the state. I wear the shoe and I know where it pinches. With the level of division within the rank and file of the party in the state, I wonder how APC can take over except through miracle.
What I told Ogboru
"Sometimes, I am tempted to say that those who decamped to the party are all mules that will defect back to their original party or run away after the general election, being their usual ways of politicking. I told Great Ogboru that he should reconcile and work with Olorogun Otega, who brought the party to the state and single handed funded it, if he (Ogboru) wanted to genuinely contest and win."
Unagha queried: "How would you come to a house built by a person, the owner allows you to enter and you turn round to rebel against him. Not only rebelling against him, you also drive him from the house he labored to build. I can assure you that the owner will use every means available to fight back."
They called us Boko Haram party
"Soon as Great Ogboru and Omo- Agege decamped to the party (APC), they started rebelling against Olorogun Otega Emerhor on the grounds that Ogboru was more popular. The question is why did he not remain in his Labour Party instead of coming to A.P.C? Yet these were the people who said APC was Boko Haram party.
"In any case, we want to win, therefore, we must allow peace for us to be able to win or else we shall all be all losers and those who just decamped to the party would have nothing to lose than go back to their original parties."
Cancel governorship, other primaries
What is the way forward in Delta, Unagha told Vanguard: "There are so many ways to it. One, the primaries from the governorship to the House of Assembly should be cancelled and direct primaries conducted. Similarly, such primary be supervised by unbiased committee."
"There should be a genuine harmonization of the state executive and not lip service as it is now. I suggest very strongly that the Delta North should be accorded the governorship ticket if truly the party means to win," he said.
Unagha explained: "Although zoning is not an APC policy, but for the purpose of equity, I think is naturally fair and just for Delta North to complete their eight (8) years so long as Delta Central and South senatorial districts completed theirs."
"Delta North is an integral part of the state, they are stakeholders like any other tribe in the state, so it is wise and proper for them to do same. I do not believe in shortchanging anybody, Delta state belongs to all of us, we should allow Delta North to complete its tenure to guarantee peace, equity and justice."
https://www.vanguardngr.com/2018/10/obaseki-congratulates-oba-ewuare-ii-on-2nd-coronation-anniversary/
APC cannot win in Delta except…
"I am afraid that should the party ignore this principle, I don't see APC winning in Delta. I also foresee the party losing the chance of claiming Delta state if various differences are not resolved," he added.
I welcome Uduaghan  
Speaking on the decamping of former governor of the state, Dr. Emmanuel Uduaghan, to the party, he said: "Now that those who used their might to fight APC in the 2015 general elections have suddenly discovered that APC is the party to beat, we should allow them. However, I warn that leadership of the party should not be entrusted in their hands as their agenda is to win and defect back.   Some of them may not be sincere; they came to APC because they were no longer relevant in their party."
Unagha said the Minister of State for Petroleum, Dr. Ibe Kachikwu, should do more as the highest political officer holder from the state in the party to address the matters weighing the party down.
Kachikwu should do more
His words: " I think that the Honourable Minister of State for Petroleum should put in more efforts as he is the highest office holder from Delta State at the federal level. Though he has been trying according to speculation, he should do more. The only way we can come out of this ugly situation is justice, justice and justice."
"Take for instance, all those who came from the Labour Party want to hijack the party structure in the state as well as all the elected offices. These are people who used the security agencies during the administration of former president Goodluck Jonathan to chase us from our homes during the 2015 general election.
"However,  we have found ourselves in one party, we must work together to take the state from PDP. We can only do so when there is respect for one another, especially the original members of the party," he added.
Subscribe for latest Videos