The United Nations and the United States have expressed shock at Saudi Arabia's confirmation that journalist Jamal Khashoggi was killed inside its Consulate in Istanbul after "a fight."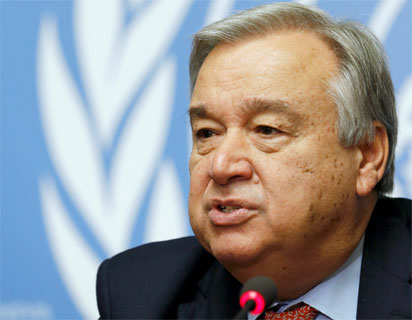 In a statement released by his spokesperson in New York, the UN Secretary-General, Antonio Guterres said that he was "deeply troubled" by the Saudi Arabia's confirmation.
After weeks of denials, Saudi Arabia has, for the first time, confirmed that Khashoggi was killed in a "fistfight" inside its consulate in the Turkish city of Istanbul.
A tweet posted by the Saudi Foreign Ministry on Friday stated that the missing Saudi journalist, a columnist with the Washington Post newspaper, was killed, claims reportedly echoed on Saudi State Television and news agency.
The tweet said that "discussions that took place with the citizen Jamal Khashoggi during his presence in the Consulate of the Kingdom in Istanbul…did not go as required and escalated negatively which led to a fight…which aggravated the situation and led to his death."
The Secretary-General said he was "deeply troubled by the confirmation of the death of Jamal Khashoggi and extends his condolences to Mr Khashoggi's family and friends".
Guterres stressed the need for a prompt, thorough and transparent investigation into the circumstances of Khashoggi's death and full accountability for those responsible.
Saudi public prosecutor also announced on state television that a primary investigation into high-profile journalist Jamal Khashoggi's disappearance had confirmed he was dead.
The public prosecutor said: "The discussions between Jamal Khashoggi and those he met at the kingdom's consulate in Istanbul … devolved into a fistfight, leading to his death.
"The Kingdom of Saudi Arabia expresses deep regret at the painful developments that have taken place in this case and affirms the commitment of the authorities in the Kingdom to bring the facts to the attention of the public and to hold accountable all those involved".
Guterres's comments were the latest in a chorus of concern and condemnation over Khashoggi's disappearance from UN officials and independent UN human rights experts.
Over the last few days, statements regarding Khashoggi disappearance had been released by the offices of UN human rights chief Michelle Bachelet, the Chair of the UN Working Group on Enforced Disappearances, Bernard Duhaime, and the Chair of the UN Working Group on Business and Human Rights, Dante Pesce.
Earlier, White House Spokesperson Sarah Sanders said in a statement that Washington acknowledged Saudi Arabia's announcement and was "closely" following the developments.
"We will continue to closely follow the international investigations into this tragic incident and advocate for justice that is timely, transparent, and in accordance with all due process.
"We are saddened to hear confirmation of Mr Khashoggi's death, and we offer our deepest condolences to his family, fiancee, and friends," Sanders said.
U.S. President Donald Trump at Luke Air Force Base in Arizona that Saudi Arabia's explanation for how Khashoggi was killed was credible, adding that what happened at the consulate is "unacceptable".
Trump said Khashoggi's death was a "horrible event" that has not gone "unnoticed" but noted that the announcement on the circumstances of the journalist's death was a "good first step".
"Saudi Arabia has been a great ally, but what happened is unacceptable," Trump said, adding he prefers that any sanctions against Riyadh does not include cancelling big defence orders.
The Saudi government said it arrested 18 Saudis as a result of the initial investigation and fired five top officials, including Crown Prince Mohammed bin Salman's adviser Saud al-Qahtani and deputy intelligence chief Maj.-Gen. Ahmed al-Assiri.
Khashoggi, a critic of Saudi Crown Prince Mohammed bin Salman, went missing on Oct. 2 after entering the consulate in Istanbul to obtain documents needed for his upcoming marriage.
Saudi officials had previously denied Khashoggi had been killed and dismembered inside the diplomatic facility, insisting the journalist left the consulate before disappearing.
Subscribe for latest Videos