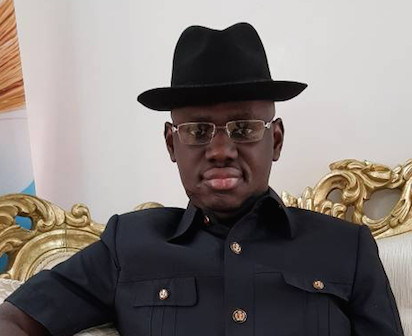 Timi Frank
Former Deputy National Publicity Secretary of the All Progressives Congress (APC), Comrade Timi Frank, has called on Nigerians and the international community to disregard the list of personalities now in circulation as those who have been banned from traveling abroad as a result of corruption charges preferred against by anti graft agencies.
Frank said the list of purported 50 high profile Nigerians "to be dealt with" with the coming into effect of President Muhammadu Buhari's Executive Order 6 (EO6), is a ruse by the presidency to deflect attention from their real motive which is to clampdown on perceived enemies of Buhari and major opposition figures ahead of the 2019 general elections.
Frank in a statement in Abuja on Monday said: "Sequel to my earlier statement, I have now uncovered the true identities of Nigerians being targeted by the President Muhammadu Buhari's administration for punitive measures through the EO6.
https://newlive.vanguardngr.com/2018/10/youths-hail-gov-emmanuel-on-workers-salary/
"The list below is an updated version of the one I earlier released on Sunday. Information available to me from authoritative channels in the presidency shows that the list earlier circulated by the presidency is fraudulent as it contains names of both Peoples Democratic Party (PDP) and some members of the ruling All Progressives Congress (APC)," he said.
According to Frank, those the presidency "plans to deal with" through the EO6 include; Chief Olusegun Obasanjo, General Ibrahim Babangida, General Abdulsalami Abubakar, Dr. Goodluck Jonathan, Alhaji Atiku Abubakar, General Aliyu Gusau, Senator David Mark, Senator Abubakar Bukola Saraki, Rt. Hon. Yakubu Dogara, Senator Ike Ekweremadu, Governor Nyesom Wike, Governor Waziri Aminu Tambuwal, Governor Ibrahim Dakwambo, Governor Udom Emmanuel, Governor Ayo Fayose, Prince Uche Secondus, Chief Femi Fani-Kayode and Chief Olisa Metuh.
Others are Alhaji Attahiru Bafarawa, Alhaji Kawu Baraje, Sule Lamido, Otunba Gbenga Daniel, Senator Rabiu Kwankwanso, Senator Dino Melaye, Senator Ben Murray-Bruce, Senator Isa Misau, Senator Bala Mohammed, Mrs. Patience Jonathan, Mrs. Toyin Saraki, Amb Goodnews Igali, Tunde Ayeni, Bishop David Oyedepo, Rev Father Matthew Hassan Kukah, Sheik Abubakar Gumi, Chief Raymond Dokpesi, Mr. Jide Omokore, Chief Jonah Jang, Elder Godsday Orubebe, Mrs. Oby Ezekwesili, Mr. Steve Oronsanya, Dr. Muazu Babangida Aliyu, Ibrahim Shema, Senator Esther Nemadi Usman, Bashir Yaguda, Dr. Abba Moro, Amudu Fintiri, Alex Badeh, Warapamo Dudafa, General Azubuike Ihejirika and General Kenneth Minimah.
He said: "It is now clear that the presidency plans to suspend the constitution which guarantees freedom of association to Nigerians and the right to own property. The plan to deal with opposition figures listed above is real and Nigerians and the international community need to face reality.
https://newlive.vanguardngr.com/2018/10/apc-denies-receiving-inecs-letter-on-zamfara/
"With the present mindset and attitude of the Buhari's administration to retain power at all cost in 2019, I fear that there may not be 2019 afterall because the presidency has taken the first step to muzzle and drive prominent opposition underground or clamp them into jail in the guise of fighting corruption.
"I hereby call on Nigerians of conscience and members of the international to do something urgently to prevent the eclipse of democracy in Nigeria with impunity and lawlessness by the present administration. Our democracy faces a certain peril from the current desperate administration that plans to appropriate the presidency by force since they are now aware that Nigerians have rejected them and will definitely vote them out in 2019."