Barcelona against Real Madrid is a rivalry that goes back 116 years, to a pitch drenched in horse manure and spectators that cheered players falling over as much as them scoring a goal.
Barca won that first meeting in May 1902, 3-1, but more than a century on the landscape looks rather different.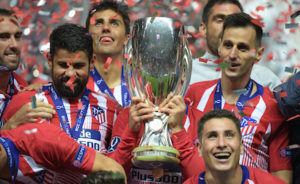 Two of the world's greatest clubs are engaged in a battle off the pitch just as fierce: the race to one billion euros.
This autumn, their presidents, Josep Maria Bartomeu of Barcelona and Florentino Perez of Madrid, each made clear their desperation to cross the line first.
The revenue milestone is not just financial, it is a mark of status, proof of success, another notch in the debate about which club is bigger.
In five years, Madrid's turnover has soared from 521 million euros to a projected 752 million euros for the 2018/19 season. Barca pocketed 490 million euros five years ago. This season they expect to make 960 million.
"Either club could be the first one to do this," Esteve Calzada, Barcelona's marketing director between 2002 and 2007, and now boss of Prime Time Sport group, told AFP this week.
But there is still work to do. "It will take a few more years unless either club sells a player before then for 400 million euros," said Placido Rodriguez Guerrero, professor at the University of Oviedo and researcher in sports economics.
Success on the pitch counts for a lot. Winning trophies swells the sums made from broadcasting rights and activates pre-agreed bonuses.
Barcelona will receive from their shirt sponsor Rakuten an extra 1.5 million euros if they win La Liga this season and another 5 million euros if they triumph in the Champions League.
The clubs can target global stars that boost visibility and merchandise sales, by the sheer weight of their talent and profile.
During the 2000s, it was a policy that made its name in Madrid, as the likes of David Beckham, Zinedine Zidane and Luis Figo were all signed for hefty fees. In recent years, the club has reined in its spending.
"It can be positive in the short term to have a superstar, they join because of the brand and then help build the brand further," says Michael Goldberg, senior vice president at the global credit rating agency DBRS.
"But we don´t believe having a star enhances credit that much over the long-term. Cristiano Ronaldo leaving Madrid will not do much damage unless it´s the beginning of the end and it becomes a regular pattern."
Instead, the clincher is likely to lie in stadium plans. Barca's Camp Nou and Real's Santiago Bernabeu are set to undergo major overhauls from 2019, with the aim of enhancing commercial advantages.
At a time when clubs like Tottenham in the Premier League are struggling to keep the cost of a new ground below 1 billion pounds, the projects of Barca and Real Madrid appear relatively cheap.
For 400 million euros, Barcelona will increase the capacity of Camp Nou from 99,000 to 105,000 and install a roof. Madrid will not increase the 81,000 seats in the Santiago Bernabeu but will take out a loan of 525 million euros to add a roof and a metal envelope around the current structure.
Perez has indicated they expect the updates to bring in more than 150 million euros of additional revenue per year.
Added to that is the issue of naming rights, which can be a sensitive issue for fans, particularly when stadiums carry a deep sense of history and identity.
Madrid are yet to find a buyer but Barca have said they are "optimistic" they will agree a title-partner by June next year, in an agreement worth 200 million euros.
"Naming is a crucial issue," says Calzada, who estimates the rights could be worth 15 to 20 million euros each year.
"But there is an obstacle because we are talking about a redesign of these two stadiums, it is not a new stadium where it is much easier to start again with a new name."
There is also the need to break new ground internationally. Next year, Barcelona will fly to Asia for their summer tour while the club have expressed support for La Liga's highly-controversial plan to stage a fixture against Girona in January in the United States.
"The future for commercial is about tapping into worldwide fanbases," adds Benjamin Dennis, a writer at DBRS. "Fans in Miami will get to see a competitive match and that could be a difference maker if Barca play more games abroad."
In the race for financial superiority, nothing is off-limits.
Subscribe for latest Videos