By Osa Mbonu
On October 1, Engineer Adamu Ajunam unveiled his Anthill Art Gallery and Anthill Photo Studio at 8 Nnobi Street, Masha, Surulere, Lagos, with a photo exhibition on transportation in Nigeria titled Okada – the modern transportation in Nigeria.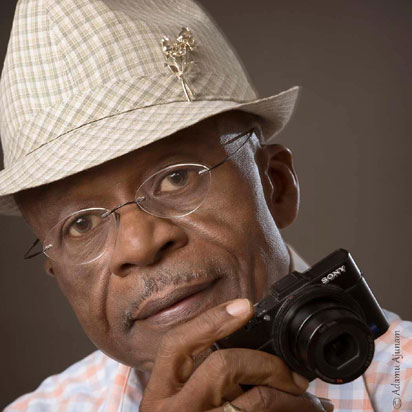 The exhibition is a collection of documentaries about Okada, the everyday transport mode we see everywhere in Nigeria, finished in Fine Art photography. Okada is a very topical issue, depicting the transportation challenges in Nigeria.
Engineer Adamu Ajunam worked for Julius Berger Construction Company for 30 years. "During the execution of my profession as an engineer," he says, "I have lived with a dual profession – a writer/ photographer and an engineer. When I retired from Julius Berger, I decided to establish my other side. To enable me carry out the idea, I decided to have a gallery where I can exhibit my works, as well as open the doors for other artists who are in the local area."
Why Anthill? Adamu Ajunam explains that 'Anthill' is his corporate identity. "As an engineer, I have always practised arts." Anthill is connected to how ants work, he says. When ants are working hard to build their hill, nobody sees what materials they are carrying about, until after a long period of time, a hill built by the ants emerges.
Adamu has also published two books on travel guide which he authored.  One is on Lagos (Eko the navel of the giant), while the other one is on Nigeria (Nigeria: The harvest of nature).
On what informed his choice of the title, Okada, for this maiden exhibition, he says: "It is a bit cynical and satirical. About 30 years ago, motorcycles, popularly known today as okada were modes of transportation which existed in the remote areas of the land and which ought to have phased as the country develops.
But unfortunately, the Okada is still with us today as a major mode of transport because the needed infrastructure like good road networks, modern railways, development of water way transportation and others are lacking. So, the okada in Nigeria has become a metaphor for regression, un-progressive nation or state failure. Adamu uses the theme of Okada to interrogate these un-progressive states of affairs in Nigeria.
"The okada problem in Nigeria shows that we don't have a transportation policy," Adamu said. He questioned why fuel products should be transported by trailers on the roads which makes them block the roads, perpetuating the okada as means of transportation in Nigeria.
Beyond the photographer's interpretations, Adamu's works tell other unintended stories. For instance, the shot which captures a man carrying lots of fuel woods on an okada tends to portray climate change, an environmental problem caused by deforestation and logging. Another shot captures a sea of heads of commercial motorcyclists wearing crash helmets.
No doubt, that was the time the police were hunting down any okada riders who did not wear a crash helmet. But today, the law on crash helmet is no longer being enforced – an evidence of policy flip-flop and inconsistency.