Kaduna, Some teachers in Kaduna State on Friday urged the state government to address the rot in school infrastructure and provide adequate instructional materials to improve the quality of teaching and learning in public schools.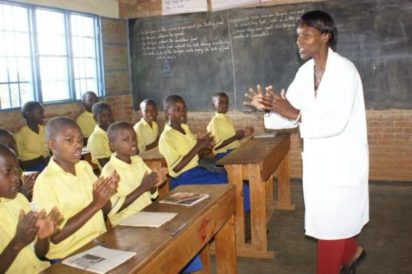 The teachers told the News Agency of Nigeria (NAN) in separate interviews to mark the 2018 World Teachers Day in Kaduna that most public schools, particularly in rural areas, lacked relevant instructional materials to enhance teaching and learning.
They also said that school infrastructure and other teaching facilities were in terrible state, with public primary and secondary schools in rural areas worst affected.
One of them, Mr Obadia Boman said:"For example, in Zwahu Kazah Primary School, Manchok, where I teach, there are no textbooks on health education, primary science and only three English books per class of 10 to 20 pupils.
"How would a teacher improve the reading ability of the pupils when only three of them can access the English book at a time.
"In addition to this, most of the pupils sit on bare floor because there is no enough furniture. Government should please do something about this."
Boman also said that he has never benefited from any kind of training since he was employed in 2010, adding that teacher training and retraining was key to ensuring quality teaching in schools.
Mr Clement Dogo, Treasurer, Nigerian Union of Teachers, Chikun Local Government Area of the state called for upward increase in the remuneration of teachers.
"A level 8 teacher in Kaduna state receives N30,000 monthly as salary, and he is expected, with the harsh economic environment, to feed his family and extended family and provide education to his children. You can't get the best out of a teacher who is emotionally stressed out due to poor remuneration.
"Not only that, opportunities must also be provided for teachers' professional development through training and retraining to equip them with current best practice in the delivery of quality teaching," he said.
Dogo commended the state government efforts at repositioning the education sector, especially basic education, adding that more needed to be done to "improve the gory situation of schools in rural areas."
According to him, "the government is paying undue attention to public schools in urban centre leaving the ones in rural areas with inadequate teachers, and no furniture, with some receiving lessons under the tree".
Mr Daniles Akpan, Executive Director, Centre for Learning and Educational Development Advocacy Africa (CLEDA Africa) equally noted that improved remuneration for teachers would attract the best brains to the profession.
Akpan described education as a critical sector for development, but lamented that the sector was left in the hands of those with poor brains and no passion for the job.
"The best brains are attracted to disciplines like medicine, engineering and other high paid professions, because of the high premium the country placed on them with good welfare packages.
"We now have a country where the best brains go to the university to study medicine and other disciplines with assurance of high remunerations and the worst goes to the colleges of education to become teachers. No wonder the country is grappling with serious challenge of quality of education at basic level where most of the teachers are unqualified.
"The teaching profession is the only discipline that one can gain admission with one or two credits at O Levels and with the lowest JAMB points", he said.
Subscribe for latest Videos