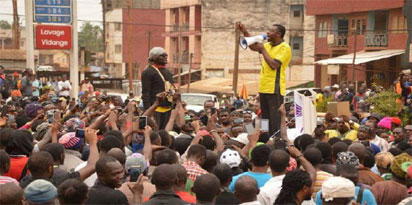 Southern Cameroun leaders addressing refugees in Abuja… before their arrest
Cameroonians go to the polls this weekend with opposition parties mounting an eleventh-hour unity bid to dislodge six-term President Paul Biya as the country faces unprecedented insecurity.

Two leading opponents of the 85-year-old incumbent have combined forces while talks among the remaining field of seven opposition candidates about a "super coalition", as happened in 1992, were understood to be ongoing on Saturday.
Cameroon's 6.5 million eligible voters will cast their ballots on Sunday against a backdrop of ongoing violence and tensions in the country's English-speaking southwest and northwest, which have been rocked by an anglophone insurgency launched a year ago in the mainly francophone country.
The violence has claimed the lives of at least 420 civilians, 175 members of the security forces and an unknown number of separatists, according to the International Crisis Group (ICG) think-tank.
In Kumba, a village in the southwest, one civilian, one police officer and one suspected separatist were killed in the last week alone.
In Buea, capital of the southwest, three separatists were gunned down on Friday while a priest was executed by soldiers on Thursday, witnesses said.
The far north region also continues to be mired in insecurity, as fighters of the Nigeria-based Boko Haram group mount cross-border raids and attacks despite a military surge to drive out the jihadists.
– 'Not preparing for war' –
In a rare coordinated political manoeuvre, one of the key opposition frontrunners, Maurice Kamto, agreed late Friday to a unity deal between his Movement for the Rebirth of Cameroon's (MRC) and the People's Development Front (FDP), meaning he will stand on behalf of both parties.
But it is unclear whether the deal was done in time to affect the vote, which runs from 0700 GMT until 1700 GMT Sunday.
"This alliance, though interesting for the vitality of Cameroonian democracy, may have arrived too late," said Hans de Marie Heungoup, an ICG researcher.
Kamto's MRC has warned that a "massive fraud" was being plotted to secure a Biya win.
"We're not preparing for war, but wherever there is fraud, there will be a firm response," said MRC spokesman Paul-Eric Kingue.
But the government hit back, saying that it would "not tolerate any disorder before, during or after the presidential vote".
Communication Minister Issa Tchiroma Bakary said in a statement that "political figures linked to foreign interests were preparing groups of agitators to stir up violence in the event that the results don't go their way".
– Election uncertainty –
It is unclear if polling will proceed normally across Cameroon's English-speaking region where separatists hold a "significant" amount of territory, according to the ICG, and have threatened to disrupt the vote.
The authorities have imposed a number of security measures, including the suspension of all inter-regional road, rail and air travel from 1700 GMT on Saturday. International borders will also be sealed.
"I hope the separatists and the government can come together and dialogue — we need dialogue," said George Enow Orock, director of the regional hospital in Buea, which is rocked by almost daily clashes.
Orock has seen between five and ten gunshot victims admitted to his facility every week since the start of the crisis, compared to an average of one a year before.
A total of 246,000 people have fled their homes in the southwest and 25,000 have left the country altogether for Nigeria, according to UN figures.
It is thought that the displaced will struggle to cast ballots which could favour Biya as anglophones have traditionally backed the Social Democratic Front (SDF) party, whose candidate Joshua Osih could suffer at the ballot box.
Gervais, a resident of the capital Yaounde, told AFP that the idea of an opposition "grand coalition" was "very interesting".
"This could truly change things," he said.
Despite the ubiquity of Biya's posters across Cameroon, he has been virtually invisible during the campaign.
Results must be posted within 15 calendar days of the poll by law, and authorities have previously waited the full fortnight before announcing the winner.