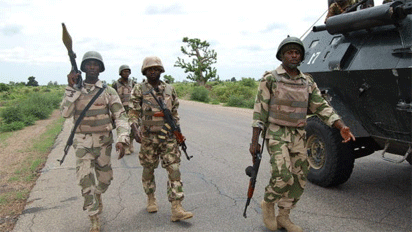 Soldiers
By Elizabeth Uwandu
benin—Hon. Henry Binidodogha (aka Egbema 1), ex-Senior Special Assistant on Waterways Security and Surveillance to former Governor Adams Oshiomhole of Edo State, has appealed for calm as it relates to the issue of the recent murder of a soldier on the Udoh – Ofunama Road in Ovia South West Local Government Area of Edo State.
Floods: NAF Extends Medical Outreach Support to Bayelsa State
The ex-militant leader stressed that Egbema Kingdom where the incident occurred is not known to be violent even at the height of the agitation for resource control before the federal government introduced amnesty programme.
How Ukachukwu aborted Bianca Ojukwu's Senatorial Ambition
Binidodogha recalled that the murder of the soldier occurred on Friday, October 12 while he was in Port Harcourt. He said he got a call from the military authorities intimating him about what happened and he swiftly travelled to the community to assess the situation while he got in touch with other ex-agitators like  Generals Ezekiel and Rooney in Delta State to get to the root of the matter.
"After extensive investigation accompanying military men from one location to the other we were able to retrieve the gun in Ovia North East Local Government Area. Meanwhile, some suspects have been arrested by the security operatives and investigation is ongoing to fish out the main culprits," he stated.
While contributing, Raphael Egbuwa and Endurance Eferutusogha, chairman and assistant secretary respectively of the Ijaw Youth Council, IYC, Egbema Clan, corroborated what Binidodogha said while also reaffirming that the youth organisation vehemently condemns all acts of criminality and will do all it can to ensure that the culprits are arrested and face the full wrath of the law.
"IYC will never support any act of criminality. It is not in our culture in Egbema kingdom to harbour such characters. We are getting close to them and soon we will get them to come and pay for their crime," the duo chorused.