Nine shops belonging to Nigerians based in South Africa were burnt during an attack in Hillbrow, central Johannesburg.
Habib Miller, Publicity Secretary,  Nigerian Union in South Africa, told newsmen the act was carried out by South Africans, adding that the union had informed the Nigerian mission in the country.
2019: Learn from APC, PDP primaries, UPU urges INEC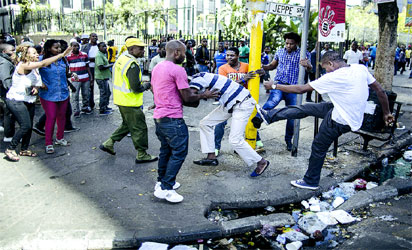 According Miller, "nine Nigerian businesses have been looted and burnt. The incident began on Sunday and continued till yesterday.
BUHARI VS ATIKU: Need for clarity
"Businesses affected range from restaurants, internet cafe, bar and groceries to stores. At the time of the incident, electricity in the area was cut off. One of the businesses affected is owned by Mr. C. J. Ubah, a bar owner at Fife Street."
Miller called on the Police to protect the lives and properties of Nigerians in the country.
"The union is monitoring the situation. We have not received any report of casualty on any Nigerian, but the situation is still tense because there are fears that the looting will resume in the night.
"We have also advised Nigerians in the area to adopt safety measures by being alert."
Subscribe for latest Videos