By Yemisi Suleiman
Philips Africa a leading health technology company focused on improving people's health, has recently launched Lumify, a new mobile, app-based approach to ultrasound delivery that brings secure cloud-enabled technology and high-image quality to broader network of healthcare providers.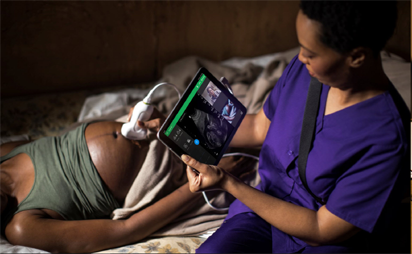 The first App-Based ultrasound system that will extend the reach of ultrasound applications to a broader network of healthcare providers using mobile technology was unveiled during Medic West Africa 2018 Lagos. Speaking at the event, Anari de Wet (Business Marketing Manager, Ultrasound – Philips) said the Philips' Lumify is an entirely new way of delivering ultrasound technology to healthcare providers and their patients, while offering high-quality imaging on a compatible smart devicethrough a subscription model.
Anari de Wet noted that the Lumify is designed for emergency departments and urgent care centers, as well as other clinical settings; it operates from a compatible smart device connected to a Philips ultrasound transducer. "Users will also have access to an online portal where they can manage their device and access Philips' support, training and IT services."
With this intuitive, easy-to-use integrated system, clinicians can begin their Reacts session with a face-to-face conversation on their Lumify ultrasound system. Users can switch to the front-facing camera on their smart device to show the position of the probe. They can then share the Lumify ultrasound stream, so both parties are simultaneously viewing the live ultrasound image and probe positioning, while discussing and interacting at the same time.
According to Jasper Westerink, CEO, Philips Africa, Lumify ultrasound is designed to drive transformation in care delivery and digital health, a dynamic combination that can extend the reach of ultrasound in a remarkable way. "Lumify's unique combination of connectivity, simplicity, portability and flexibility enables clinicians to perform ultrasound examinations across a variety of clinical settings, from cardiology suites down to under resourced semi-urban and rural areas. Finally, clinicians as well as family doctors at small outpatient clinics can perform scan themselves, speeding up the diagnosis process and possible treatments." he said.
The Lumify is part of Philips' App-Based ultrasound ecosystem, an open innovation platform aimed to deliver the benefits of ultrasound early in the health continuum and expand access among more healthcare providers.
The Lumify ultrasound can help healthcare providers guide diagnosis, treatment and management in ways for which, ultrasound isn't currently used. Built on a flexible subscription-based delivery model, users, healthcare providers and institutions, have access to and can manage solutions based on their changing demands and needs. The first-generation Lumify transducer is now commercially available across East Africa. The L12-4 transducer supports a variety of clinical applications, including soft tissue, musculoskeletal, lung and vascular scanning.