*My VP candidacy about Ndigbo, Nigerians, not me— Obi
*Says S-East govs were not against him
*Peter Obi, an iconic son of Igboland – Gov. Ugwuanyi
By Dennis Agbo
President-General of  Ohanaeze Ndigbo, Chief Nnia Nwodo has expressed delight at the choice of former Governor Peter Obi of Anambra State as the Vice Presidential Candidate of the Peoples Democratic Party in the 2019 elections even as Governor Ifeanyi Ugwuanyi of Enugu State described Peter Obi as an iconic son of Igboland who has distinguished himself creditably in private and public dealings.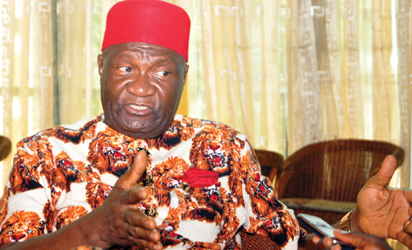 Both Governor Ugwuanyi and Nwodo spoke when Mr Peter Obi visited them separately.
Governor Ugwuanyi, described the PDP Vice Presidential Candidate as a formidable and trusted party man, noting that Enugu is a PDP state and appreciated the people of the state for the massive support they gave the party in 2015
Earlier in his speech, Mr. Obi told the governor that he was at the Government House to consult him and seek the usual support of the state, stressing that his candidacy was not about him "as Peter Obi" but the people of the Igbo nation and Nigerians at large.
While applauding Gov. Ugwuanyi for his giant development strides in Enugu State, Obi pointed out that the success of his nomination depends on the leaders of the South East geo-political zone, pledging to bring meaningful development to the zone such as the Enugu – Onitsha expressway, when elected into office.
His words: "So for me this nomination is about our own area. We can't continue to say we are not getting this or that or that we are marginalized. These are some of the opportunities to re-address whatever inadequacies we had complained about".
On the initial misconception that the South East governors were not in support of his nomination, Obi said "As leaders they can from time to time disagree with a process of a communication. They have never said they don't want Peter Obi, they only said they wished they were consulted and that issue is being addressed which is just the same thing I am doing now." He also said he can not be vice president of Nigeria for four years and people will still be complaining of bad state of the roads, particularly in the South East.
"I have served as governor, so people know a bit of my record. I need your support and that of all of you. I assure that it is all about us and Nigerians, not about Peter Obi".
The Vice Presidential candidate later visited the President-General of Ohanaeze Ndigbo, Chief Nnia Nwodo, who said that "as a party, the PDP has responded to our yearnings and aspirations by reacting to our feeling of marginalization at the top echelon of our leadership of our great country by nominating you to vie for the position of the Vice President of Nigeria".
The President General disclosed that the Apex Igbo body will "very soon convene a meeting of the highest organ of Ohanaeze Ndigbo Ime Obi when all the political parties are to bring out their candidates and we will take a decision on what direction Igbos will take in the next election".
He extolled the leadership qualities of Obi saying "Your  public conduct as Governor exemplifies you as a Man of outstanding humility. Your incorruptibility in government speaks volumes of the yearnings of our youths that government must not be used as instrument of self aggrandizement but as an instrument of development for people.
"Your outspokenness on matters of public policy and your criticism of those who do not do it well shows that you have no skeleton in your cupboard. Five years after being Governor and you have not been invited by anybody to investigate you for ill gotten wealth. Your progress when you were a private businessman leading up to being one of the instruments of the founding one of the leading commercial banks in Nigeria which bank has never fallen under or been identified for behavior that is inconsistent with the law, they all show that you have eminent qualities."